Jesse Plemons Joins Kirsten Dunst's Directorial Debut 'The Bell Jar'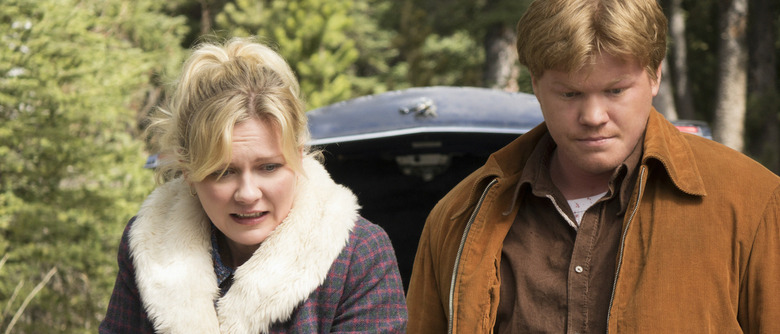 Fargo season 2 co-stars (and real-life paramours) Kirsten Dunst and Jesse Plemons are set to reunite, but not for Fargo season 3. Plemons has joined Dakota Fanning in The Bell Jar, which Dunst plans to direct as her feature debut. Dunst is also co-writing the script with Nellie Kim. 
Based on Sylvia Plath's semi-autobiographical 1963 classic, The Bell Jar centers on a brilliant and accomplished young woman named Esther Greenwood (Fanning). She arrives in New York City for an internship, but finds herself more disoriented than excited by the experience. As time goes on, her psychological state worsens and she falls into a deep depression. Plemons has been cast as Lenny Shepherd, a well-off New York DJ who dresses like a cowboy and dates Esther's good friend Doreen.
While The Bell Jar marks Dunst's first feature directing effort, she has a few short films under her belt already including Welcome, which she made as part of Glamour's 2007 Reel Moments series, and Bastard, which debuted at the 2010 Cannes Film Festival. The Bell Jar's subject material seems like a good fit for Dunst; her movie The Virgin Suicides is frequently compared to Plath's book for its focus on mental illness and the constraints of femininity.
Said Cornerstone Films, which has scooped up The Bell Jar for international sales (via THR):
The themes explored in The Bell Jar resonate as strongly in 2016 as they did in 1963 when the novel was first published. Kirsten Dunst's compelling vision for the film has a vibrant authenticity that modern audiences will embrace and we are proud to be part of the team bringing her directorial debut to the marketplace.
Plemons has had a busy few years. Since breaking out on Friday Night Lights, he's had major roles in Breaking Bad and Fargo, and he's appeared in several high-profile films including Black Mass and Bridge of Spies. He had his first true feature leading role this year in the very good cancer dramedy Other People. His other upcoming projects include The Discovery, from The One I Love director Charlie McDowell; American Made with Tom Cruise and director Doug Liman; and Hostiles, a reunion with Black Mass director Scott Cooper.
Shooting on The Bell Jar begins in early 2017. Fanning will produce with Lizzie Friedman (The Stanford Prison Experiment) and Brittany Kahan. Dunst will executive produce with Celine Rattray (American Honey).