Michael Moore Will Self-Distribute 'Michael Moore In TrumpLand'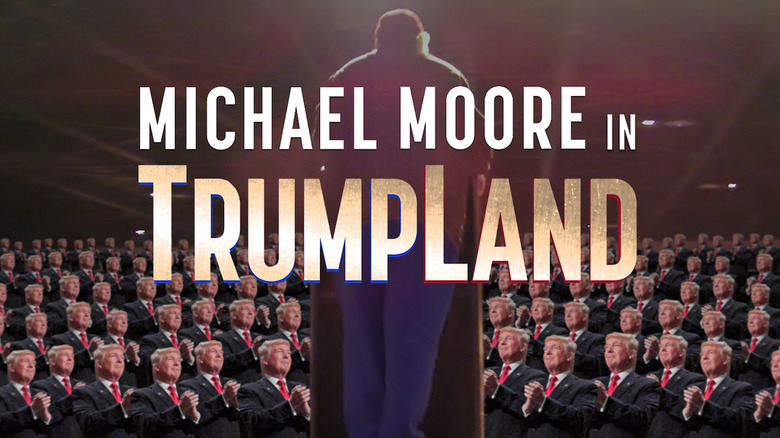 The other day we got the surprise news that Michael Moore has a new movie coming out. Not only has he finished a brand new doc, but it was also shown to audiences this week. Michael Moore in Trumpland, based on the director's one-man play, premiered this week, just three weeks before the November 8th presidential election. When will the rest of the world get to see Moore's latest? A release date isn't set in stone, but the director is going to self-distribute his movie.
Below, learn more about Michael Moore's TrumpLand distribution plans.
The Hollywood Reporter's sources told them Moore is distributing Michael Moore in Trumpland, but there's no official announcement yet. The documentarian is handling the theatrical release in addition to an impending iTunes release. The film premiered Tuesday night at New York City's IFC Center, where attendees could see it for free. Yesterday, Michael Moore in Trumpland began its one-week run at the IFC Center and Laemmle Town Center 5 in Encino, California.Michael Moore in Trumpland is a concert film, which the director shot earlier this month at the Murphy Theater in Wilmington, Ohio, "the heart of Trump country," Moore called it. He was initially going to perform the show at the Midland Theater in Newark, Ohio, but a community board in charge of the theater canceled the performance out of fear of controversy.
Angie saw the film when it premiered the other night. She thinks it's fine; it just never "really clicks either as a comedy or as a political argument":
In the Q&A that followed my screening, Moore explained that his goal with TrumpLand was less about changing minds than about boosting voter turnout by getting the liberal base excited about Clinton. Even from that perspective, though, TrumpLand seems unlikely to have big results. Moore's sincerity is never in doubt, and neither is his horror at the possibility of a Trump White House. He deserves credit for making a concentrated effort to get out the vote. TrumpLand seems unlikely to do any harm to his cause, and if it helps get a few extra people to the polls on November 8, the effort may well turn out to be worth it. But without a focused target in mind, TrumpLand never really clicks as either a comedy or as a political argument.
Apparently, the movie is more of an argument for Hillary Clinton than a flat out indictment of presidential candidate Donald Trump or an exploration of all things Trump. Moore has stated it's more his intent to find a middle-ground between himself and Trump's supporters, plenty of whom he knows, and he's friends with in the Midwest. We'll soon see how effective he is at trying to find common ground.