Kate McKinnon's Extensive 'Ghostbusters' Outtakes Are Wonderful Improvisational Magic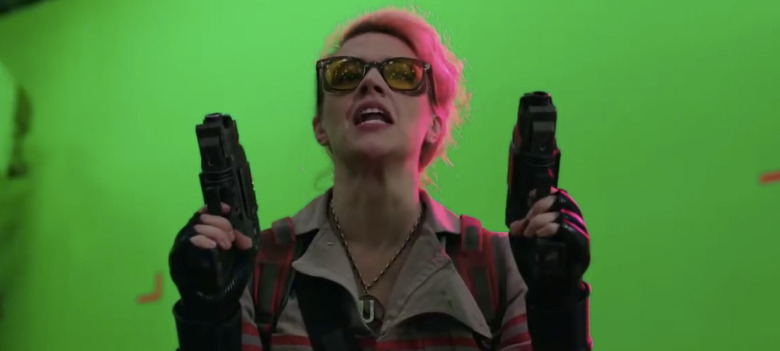 We may receive a commission on purchases made from links.
Ghostbusters just arrived on home video last week, and it came with the extended cut of the film that wasn't seen in theaters. Word on the street is that the extra 15 minutes put back into the movie actually fixes many of the plot holes that remained in the theatrical cut, and it just might be worth watching. It probably won't change the minds of those who flat out hated the theatrical cut already, but there you have it.
Now that the film is on home video, some of the outtakes are making their way online. There are actually two gag reels and six alternate take reels available in the special features, showing that Paul Feig shot a lot of footage for this movie. They're all worth watching for some laughs, but easily the best one out of all of them are Kate McKinnon's Ghostbusters outtakes. They're wacky, wonderful and just pure improvisational magic. Watch them below!
For many, Kate McKinnon was easily the best part of the new Ghostbusters, even for those who didn't like much about the movie at all. Our own Peter Sciretta actually didn't like what she brought to the table, only because he thought the character felt like she belonged in an entirely different movie.
While I think she's certainly hamming it up more than her co-stars, that's clearly the idea. If you look back at the original Ghostbusters, Bill Murray's turn as Peter Venkman was always the one not taking things very seriously, cracking jokes and being generally strange. That's exactly what McKinnon does here, albeit on a higher level of goofiness, mostly because the comedic tone of the movie as a whole is much broader. Even if you didn't like her in the movie, you can't deny her uncanny ability to come up with a variety of hilarious lines on the spot.
For those curious, here are all the special features from the Ghostbsuters home video release by Sony:
Ghostbusters
Extended Edition & Theatrical Version
2 Hysterically Haunting Gag Reels
4 Unearthed deleted scenes
11 Totally Possessed Alternate Scenes and more than 60 minutes of additional extended and alternate scenes with Ultraviolet download
6 Jokes-A-Plenty alternate take reels
5 Supernatural Featurettes: "Chris Hemsworth is 'Kevin'"; "The Ghosts of Ghostbusters"; "Meet the Team"; "Visual Effects: 30 Years Later"; "Slime Time."
Filmmaker Commentaries
Photo Gallery
I'm hoping to check out the extended cut of Ghostbusters sometime soon to see if I like it more than the theatrical cut. I didn't hate it by any means, but I was certainly disappointed by the end. Still, I wouldn't mind seeing what can be done with a sequel as long as we give someone else a shot behind the camera.