LOL: Tom Cruise Recreates Almost All Of His Movies In Just 9 Minutes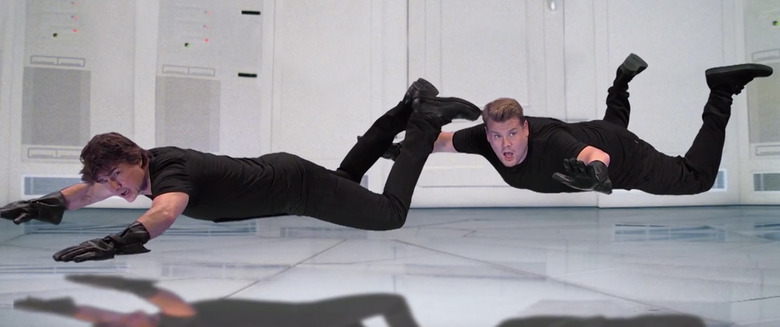 James Corden has plenty of fun with "Carpool Karaoke" over on The Late Late Show at CBS. In fact, people love it so much that Apple Music ordered an entire TV series based on the premise. However, my personal favorite gag of James Corden's is when he gets a big movie star to reenact their entire filmography in just a few minutes. Tom Hanks did it in eight minutes, Matt Damon did it in seven minutes and Arnold Schwarzenegger did it in six minutes. Now it's Tom Cruise's turn, and this one takes the longest yet.
Watch almost all the Tom Cruise movies reenacted in just 9 minutes after the jump, and there just might be a cameo from one of Tom Cruise's former co-stars.
I'm an unapologetic Tom Cruise fan. I don't care about the tabloid gossip, I don't care about his beliefs in Scientology. The guy is one of the hardest working actors and producers in Hollywood, and even if a movie surrounding him turns out to be bad, he's always great in it (and it sounds like that's what happened with Jack Reacher: Never Go Back according to most reviews).
My love for the work of Tom Cruise started at a really young age because my parents introduced me to Top Gun before I really even understood much of what was happening in it. I was obsessed with fighter jets because of Tom Cruise. I got one of those photos where they put your face on a famous movie still or celebrity at a theme park, and the photo I picked was Tom Cruise as Maverick in Top Gun.
In addition, for some reason, I was completely fascinated by Rain Man at an age when I really should have had no interest in a movie like that. I don't know if it was merely the presence of Tom Cruise or the mesmerizing behavior of Dustin Hoffman as Raymond Babbit, but I was so obsessed with that movie that I was always on the hunt for one of those pull-back motorized cars that looked like the Buick Roadmaster from that movie.
Seeing Tom Cruise do something like this isn't only fun, but it reminds me what an amazing career the actor has had. Thankfully, he's not quitting anytime soon, and we'll get to see Tom Cruise running for many years to come. I wouldn't be surprised if Tom Cruise lived past 100 and was still doing his own stunts.