'Westworld' Episode 4 Images Tease More Robot Cowboy Shenanigans And The Return Of A Familiar Outlaw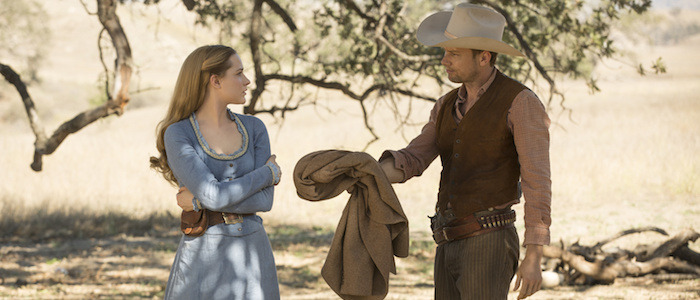 We're knee-deep into season one of Westworld and HBO's new science fiction series has made a habit out of asking big questions, offering complicated answers, and generally being one of the most promising, intriguing, and downright entertaining new shows of the year. The fact that I can write nearly 4,000 words dissecting a single episode is evidence of that. The fact that we can discuss the show's philosophical implications and then pivot to talk about the show's crazy mysteries reminds me Lost's heyday and that's only a good thing – if Westworld can deliver as much joy as that series did throughout its run, I can deal with the frustrating hiccups that will surely arise every now and again.
A new batch of images from the fourth episode of the season, titled "Dissonance Theory," have arrived online, teasing which characters and storylines will be touched upon in the coming hour.
But before we get to those new images, here's the preview for the next episode, which teases everything from that mysterious maze to a giant crane building something in the middle of the park to Anthony Hopkins' Dr. Robert Ford threatening someone offscreen. Good times.
And here's the official episode synopsis:
Dolores (Evan Rachel Wood) joins William (Jimmi Simpson) and Logan (Ben Barnes) on a bounty hunt in the badlands. The Man in Black (Ed Harris), with Lawrence (Clifton Collins, Jr.) in tow, finds a critical clue in his search to unlock the maze. Dr. Ford (Anthony Hopkins) and Theresa (Sidse Babett Knudsen) discuss the future of the park. Maeve (Thandie Newton) is troubled by a recurring vision.
And now, we can move on to those pictures, which you can check out in the gallery below. Let's run down what's on display in these.
First of all, it looks like "Dissonance Theory" will finally return Rodrigo Santoro's Hector Escaton after the show memorably introduced him (before memorably killing him) in the pilot episode. Other photos promise forward momentum with William (Jimmi Simpson) and his future brother-in-law Logan (Ben Barnes), who encountered a freaked-out and possibly malfunctioning Dolores (Evan Rachel Wood) at the end of last week's episode. Will this week provide further evidence of that crazy theory about their characters or officially kill it dead? And after sitting much of last week out, Ed Harris' Man in Black and Thandie Newton's Maeve get their own images, which certainly implies that they'll have more to do this time around.
"Dissonance Theory" airs this Sunday. As usual, our coverage will run the next day.