Early Buzz: 'Doctor Strange' Has Some Of The Best Action Sequences In Marvel History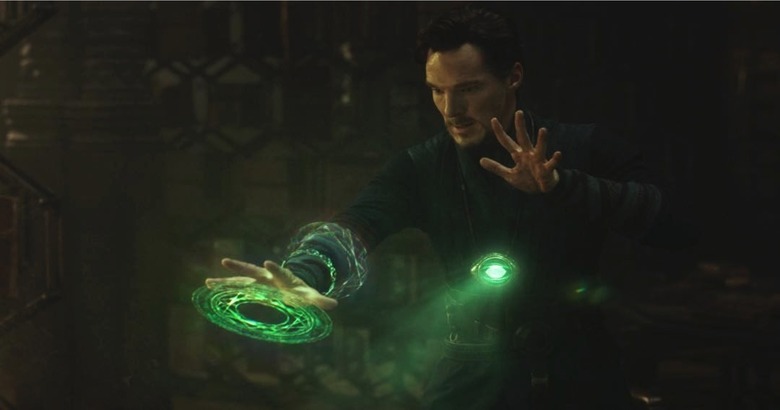 The first press screenings of Doctor Strange took place on Wednesday night in Los Angeles and New York City. You will have to wait until Sunday for the full Doctor Strange reviews, but you can see a compilation of spoiler-free reactions from Twitter, after the jump.
What did people think?
Universally the visual effects and mind-bending imagery are being praised, and some are saying this is the best action sequences of any Marvel film to date. Giacchino's score is often cited as being exceptional for a Marvel film, and many are praising Benedict Cumberbatch's portrayal of the character.
On the more negative side of things, a few people have pointed out that the origin story is a bit formulaic and some of the humor feels forced.
Here is a look at the comments from those who saw the film:
Peter Sciretta of /Film: Doctor Strange's action set pieces make an MC Escher paintings look tame. Some really great, clever, inventive stuff. Worth the 3D ticket alone. Cumberbatch owns Doctor Strange, the movie is funnier than I was expecting, a throwback to a pre-MCU Iron Man-like standalone story.Jeff Cannata of the /Filmcast: I saw Dr Strange. It is better than I could have ever hoped for. Among the very best Marvel films. It dazzles and entertains throughout. Remember when The Mateix made you rethink what was possible in an action sequence? Dr Strange does that 4 or 5 times.Erik Davis of Movies.com: #DoctorStrange is definitely Marvel's strangest movie to date, but it's weird & wild in all the best ways. Incredible imagery, heady story. The action sequences in #DoctorStrange are unlike anything Marvel's done. There are so ferociously loopy, frenetic & nerdy, I adore them. If #DoctorStrange has a weak spot, it's w/ its humor. Doesn't mesh as well as it does in other Marvel movies. But man is this sucker a ride!Steve Weintraub of Collider: DOCTOR STRANGE is unlike any previous Marvel movie and that's why I love Marvel. They keep pushing boundaries and make it look easy. Visuals in DOCTOR STRANGE are fantastic. Actually worth seeing in 3D. Cumberbatch is great as the Sorcerer Supreme. DOCTOR STRANGE has two after the credits scenes like most Marvel movies. They both set up future things...trying to stay spoiler free. not going to say DOCTOR STRANGE is the best Marvel movie. It's not. But it's an awesome Doctor Strange movie with visuals that will floor u.Mike Ryan of Uproxx: I liked DOCTOR STRANGE. The most self-contained Marvel movie in a long time. Fun visuals. Almost felt like a reboot of the first IRON MAN. In that it feels obvious that a**hole yet charming Stephen Strange is here to eventually take the place of a**hole yet charming Tony Stark. Strange and Stark are *almost* the same character. Makes sense now they'd hire big star Cumberbatch to phase in while Downey phases out. I hope someday he learns to just be Doctor Normal.Alex Billington of FirstShowing: Doctor Strange – ??n????od pu? '?????? p??o? s??? ?o ?no ???????? u???d?? ??u?s ?s?q s,?????? ???n? pu?? ??ns?? bu?u??????u? ?????n?????ds ?Umberto Gonzalez of TheWrap: #DoctorStrange is SPELLBINDING! Hot movie! Great performances especially Cumberbatch as Strange, storytelling, & incredible visual effects!???? Guys, that movie is so lit! Feige is the real Sorcerer Supreme for consistently weaving Marvel magic & making these movies work!David Ehrlich of Indiewire: DOCTOR STRANGE is guilty of *all* the usual Marvel movie problems, but Tilda & some VERY trippy visuals make it a spectacle worth savoring. also, DOCTOR STRANGE is something i never thought i'd see: a Marvel movie with a good original score. what a time to be alive.William Bibbian of Crave: I wouldn't put #DoctorStrange in Marvel's top five but it's an entertaining movie with big ideas, gorgeous CGI and unique action sequences.Jen Yamato of The Daily Beast: #DoctorStrange is a stunning visual achievement. A welcome blast of weirdness that opens up the MCU. Super dug it. Maybe best viewed on ????????????Ben Pearson of Geek Tyrant: Even beyond its insane visuals (cool stuff like you've never seen before), #DoctorStrange is tons of fun. A bit formulaic, but very solid.Josh Dickey of Mashable: DOCTOR STRANGE = YES on California Proposition 64 because I want some of whatever Marvel has been smoking and I want it stat. DOCTOR STRANGE magic makes HARRY POTTER's look like parlour tricks. Dark & spooky psychedelic horrors, abracadabra wowie zowie. Loved it. Best of all, DOCTOR STRANGE's characters are as multi-dimensional as they can be. Their setups & payoffs are dazzling sleights of hand.Perri from Collider: #DoctorStrange has weak spots but it's a solid intro to the character. Refreshing and exciting to see such bold, unique story on screen.Eric Eisenberg of CinemaBlend: Prepare to dig #DoctorStrange! Not the strongest script, but it legitimately adds new colors to the MCU, and the action is beautiful & crazyEric Goldman of IGN: #DoctorStrange isn't one of Marvel's very best, but it is still a very entertaining and visually dazzling movie with plenty of highlights. Now that #DoctorStrange got the origin story out of the way, I am excited to see him as part of the MCU and how he opens it up even more.Haleigh Foutch of Collider: #DoctorStrange is pretty all around delightful. Excellent visuals, great characters, inventive use of magic & Cumberbatch is fantastic. The action in #DoctorStrange is some of the craziest, most enjoyable yet. Definitely adds a new color to Marvel's ever-expanding crayon box.Sean Gerber: #DoctorStrange is a Stan Lee/Steve Ditko creation given beautiful life by the imagination of @scottderrickson & VFX sorcery of @stefceretti!Alex Welch of Screenrant: #DoctorStrange has some of the best action sequences in any Marvel movie EVER. There are some problems with the humor and the pacing of the story itself. #DoctorStrange Benedict Cumberbatch IS #DoctorStrange though. His performance anchors the whole movie. Not too 5 Marvel, but still good. And it teases some very exciting things for the future of the MCU. #DoctorStrange Also, Michael Giacchino's #DoctorStrange music is Marvel's best score to date.Courtney Howard: Showstoppers are the kaleidoscopic, trippy visuals. Sufficient at dealing w/ stakes in special-effects driven worlds.Andy Signore of Screenjunkies: "Review #DoctorStrange is a wonderfully trippy, visually stunning origin story that intros great characters into the MCU & #CloakOfLevitation. Seriously the #CloakOfLevitation stole the movie for me – it's its own wonderful character that I can't wait to see more of ????"Christina Radish ?of Collider: Had a damn good time with #DoctorStrange! It's a fun, funny, inventive movie with one of the best ensemble casts I've seen in a long time.Brandon Norwood of The Trackingboard: Yea I loved DOCTOR STRANGE. Y'all are not prepared for how trippy and psychedelic it is. MCU is opened up in new and exciting ways. Give Tilda a chance guys. FYI I think Michael Giacchino is the new John Williams.Anna Klassen of Bustle: DOCTOR STRANGE: it's a whole lot of fun watching Cumberbatch be an American a**hole. Also, a bit of an acid trip. See on empty stomach.Mike Dougherty: I think I'm officially allowed to say this now without upsetting the mighty studio embargo overlords: DOCTOR STRANGE is really good! Intricate, beautiful visual design – the details sing. All the sorcery rules are a bit silly of course, but a total hoot if you go with it.Mark Hughes Of Forbes: Saw @DrStrange, it's watching Lee-Ditko come to life!