Colin Firth Joins Disney's 'Mary Poppins Returns'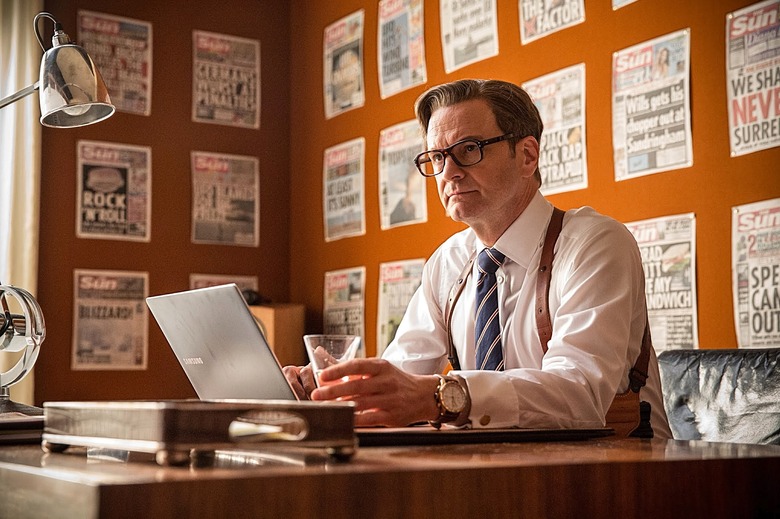 Mary Poppins Returns just got even more British. Colin Firth has signed on for the Disney sequel, joining Emily Blunt as the practically perfect nanny and Lin-Manuel Miranda as her lamplighter buddy Jack. Also starring are Meryl Streep, Ben Whishaw, and Emily Mortimer. Find out which character Firth is playing below. 
Variety reports Firth is in negotiations to play William Weatherall Wilkins, president of the Fidelity Fiduciary Bank. Here's hoping those tongue-twisting names will be incorporated into the lyrics of a song at some point in the movie, because otherwise what is even the point? As previously reported, Streep is Mary Poppins' cousin, Topsy, and Mortimer and Whishaw play Jane and Michael Banks.
Disney's original 1964 Mary Poppins was based on the first of P.L. Travers' eight books about the magical nanny. Mary Poppins Returns is a sequel based on the other installments. The story picks up about two decades after the original, in Depression-era London. Jane and Michael Banks are all grown up, and Michael has three children of his own. But when tragedy strikes, the Banks family is revisited by Mary Poppins, who helps them rediscover joy and adventure in their lives.
Rob Marshall is directing Mary Poppins Returns from a script by David Magee. The sequel will feature an all-new score by Marc Shaiman and all-new songs by Shaiman and Scott Wittman. John DeLuca and Marc Platt are producing with Marshall.
Firth last appeared in another sequel, Bridget Jones's Baby, and recently wrapped yet another sequel, Kingsman: The Secret Service. His other upcoming projects include Rupert Everett's Oscar Wilde biopic The Happy Prince, Thomas Vinterberg's survival drama Kursk, and James Marsh's yachting drama The Mercy. He also had a hand in one of this fall's most highly praised dramas, though you might not know it unless you sat through the credits: he was a producer on Jeff Nichols' Loving.
Disney has Mary Poppins Returns out December 25, 2018.