'Wet Hot American Summer' Season 2 Cast Adds Alyssa Milano & Mark Feuerstein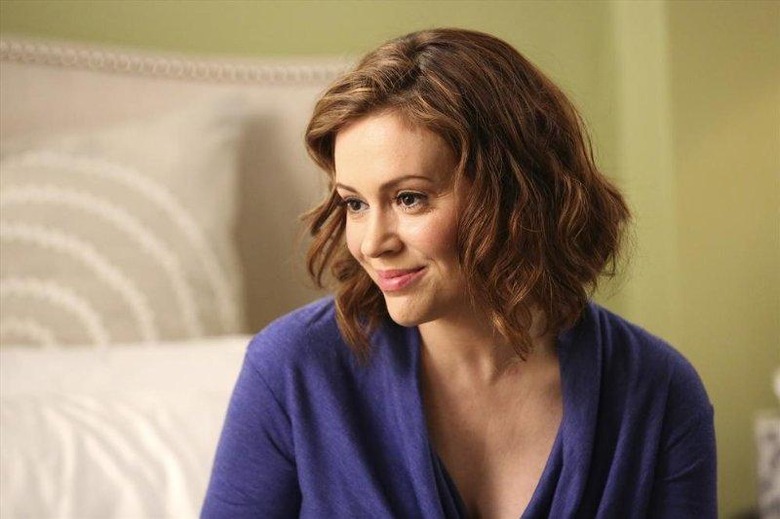 Next year we'll all get to pay another visit to Camp Firewood. The main talent involved in Wet Hot American Summer is confirmed to return for season two of the Netflix comedy series, titled Wet Hot America Summer: Ten Years Later, but plenty of new characters are expected to appear. Actress Alyssa Milano (Charmed), for example, has just signed on to play a regular in David Wain and Michael Showalter's show.
Below, learn more about the Wet Hot American Summer cast for season two.
Deadline reported Milano's casting, but there are no specifics about the role she's playing. Season two is about the promise the camp counselors made at the end of the 2001 film: revisit Camp Firewood 10 years later to see what kind of people they've all become. Andy (Paul Rudd), Lindsay (Elizabeth Banks), Beth (Janeane Garofalo), Gene (Christopher Meloni), and other original characters are back for Wet Hot American Summer: Ten Years Later, which takes place in 1991.
The following actors are confirmed to return to their respective roles: Bradley Cooper, Marguerite Moreau, Zak Orth, Michael Ian Black, Amy Poehler, Molly Shannon, Lake Bell, Michael Showalter, A.D Milles, Kristen Wiig, Joe Lo Truglio, Ken Marino, Josh Charles, and, the man who saved friendships in season one, Chris Pine.
Here's the teaser/clip Netflix released for season two:
Like First Day of Camp, 10 Years Later is eight half-hour episodes. How many seasons Wain and all involved have in mind is unknown, but Wain has said before they'd "love to keep going," and he doesn't "think we'll ever run out of stories to tell about these characters" (Source: Rolling Stone):
When the dust settles, we'll think about whether there's more to do on it ... I think this world is somehow just endlessly interesting to me. Summer camp was a true defining experience in my own personal life, and so I'm not surprised that their tends to be more places to go there.
Besides those comments, the writer, producer, and director has said little about season two of Wet Hot American Summer. When USA Today recently tried to press him for details, he revealed nothing. We do know Alyssa Milano isn't the only latest addition to the series' ensemble, though. Joining the actress — who currently has a show in the works at the CW based on her graphic novel "Hacktivist" — is Mark Feuerstein (Royal Pains). Feuerstein is playing a brand new character who's always been an essential part of the camp's team, as described by Deadline, which sounds like the kind of silliness we expect and hope for from Wet Hot American Summer.
Wet Hot America Summer: Ten Years Later debuts on Netflix in 2017.