VOTD: Meet 'Saturday Night Live' Director Don Roy King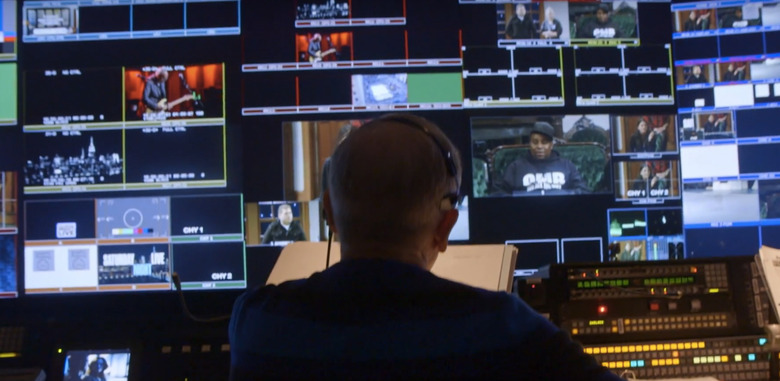 Even people who aren't die hard Saturday Night Live fans like myself know who Lorne Michaels is. When you're the man responsible for creating one of the biggest, groundbreaking television shows of all time, and you continue to run the show for nearly four decades (there were some years he wasn't in charge), even casual fans are bound to learn your name. But for the past 10 years, there's been another man responsible for bringing SNL to your screen.
Don Roy King has been the director of Saturday Night Live for 10 years now (not quite as long as Kenan Thompson's time on the show which began in 2003). He calls the shots for a 90-minute sketch comedy show that is broadcast live across the nation on network television after being put together in a single week. There is no other job like it, and it's a miracle the show even gets off the ground each week. But with the work of Don Roy King, more often than not it goes smoother than it ever should, and a new video profile dives into his career and work on the fast-paced show.
Here's the Don Roy King video profile from AARP (via Laughing Squid):
At 68 years old, the AARP wants to show how a man who is getting up there in the years can still hold a serious, fast-paced job. Plus, they highlight the fact that he had been working on shows like Good Morning America and CBS This Morning for 21 years before feeling a need to change his lifestyle up.
You'd be hard-pressed to find anything more drastically different than SNL, but he's adjusted swimmingly, and he's doing some of the best work in his career. Since become the Saturday Night Live director, King has been nominated for an Emmy every single year, and even won six in a row before losing out in the Outstanding Directing for a Variety Series this year. He's also been nominated for a Directors Guild of America award every single year, since taking the gig, including winning one for the Saturday Night Live 40th anniversary special.
The video profile also dives into how the show has allowed him to keep up with the pop culture of today, which allows him to connect with his daughter much easier than he otherwise might. Though sometimes he still has lapses here and there, like expecting the rapper 2 Chainz to be two different people. That's just adorable.
If you're curious to get a better glimpse behind the scenes of SNL, check out James Franco's intimate documentary Saturday Night available on Hulu now.