Domhnall Gleeson Playing Mr. McGregor In 'Peter Rabbit'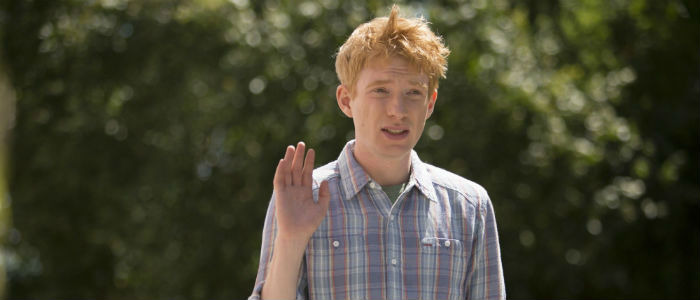 The director behind Easy A and the Annie remake, Will Gluck, is currently working on a Peter Rabbit movie based on the classic series of books written and illustrated by Beatrix Potter. Gluck's live-action film has already enlisted late-night host James Corden to voice the titular role. The rabbit's adversary, Mr. McGregor, a farmer sick and tired of rabbits eating his vegetables, will be played by Domhnall Gleeson (Ex Machina).
Below, learn more about the Peter Rabbit cast.
The Hollywood Reporter first learned Gleeson has joined the Sony project, which is set to begin filming early next year. The cast already includes Daisy Ridley (Star Wars: The Force Awakens), Elizabeth Debicki (Guardians of the Galaxy Vol.2), and Rose Byrne (Neighbors 2: Sorority Rising). Byrne, like Gleeson, is playing one of the live-action roles. Specifics about her character unknown, but her character's name, Bea, is clearly a tribute to Peter Rabbit's author. Ridley and Debicki, like Corden, are voicing CG characters. There's speculation the actresses are most likely playing two of Peter's three sisters, Flopsy, Mopsy, and Cotton-tail.
Peter Rabbit first appeared in 1903, in Beatrix Potter's "The Tale of Peter Rabbit," a story she wrote a decade earlier for a sick child she was trying to cheer up. Since then, Peter Rabbit and his family's adventures have sold well over 150 million copies worldwide. In Potter's stories, the rabbits live like humans do — wearing clothes, owning furniture, etc.
The first Peter Rabbit story introduced Mr. McGregor. In "The Tale of Peter Rabbit," the rabbit goes against his mother's wishes and sneaks into the farmer's garden. Mr. McGregor doesn't capture the rabbit, but he does get its clothes, which Peter and his cousin Benjamin Bunny return for in "The Tale of Benjamin Button." Mr. McGregor has a wife and a feisty cat in the books, but whether they're a part of Rob Lieber's (Alexander and the Terrible, Horrible, No Good, Very Bad Day) script is unknown.
Domhnall Gleeson is currently busy playing A.A. Milne, the creator of Winnie the Pooh. Simon Curtis' biopic Goodbye Christopher Robin, which is about Milne's troubled relationship with his son, comes out next year and co-stars Margot Robbie. Over the next twelve months or so, we'll also see the actor in Doug Liman's American Made, Darren Aronofsky's untitled film, David Wain's A Futile & Stupid Gesture, and, of course, Rian Johnson's Star Wars: Episode VIII. 2017, as you can probably tell, is shaping up to be another fantastic year for Gleeson.
Peter Rabbit is eying an April 2018 release date.