Listen To Michael Giacchino's 'Doctor Strange' Score And See Some Magical New Footage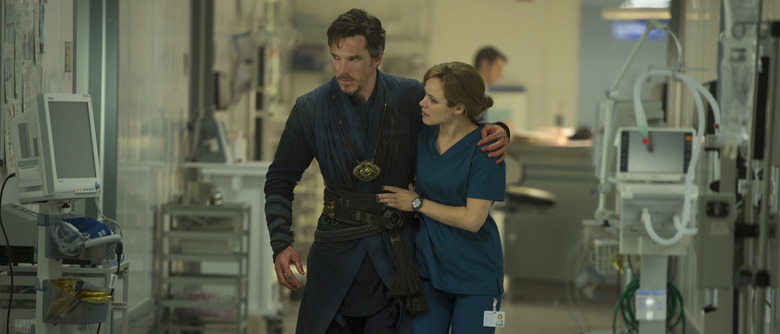 I've become a bit of a broken record over the past year or so as I've bemoaned the lack of recognizable musical scores for our modern superhero movies. I miss the days when the likes of John Williams and Danny Elfman could create instantly memorable melodies that not only provided an excellent backdrop to all kinds of heroic derring-do, but also intrinsically felt like the characters they were representing. Of the more recent comic book movies, I'd argue that only the first Captain America and Man of Steel have scores that actually stand out.
Could Doctor Strange change that? The first piece of music from the film's soundtrack has been released, so let's take a look...or rather, a listen.
When Michael Giacchino hopped on board Doctor Strange, I couldn't help but raise my hopes. After all, he's one of our finest modern movie composers, whose work in films like Up and the recent Star Trek movies feels like an antidote to the anemic scores too many movies are paired with these days. Heck, his John Barry-inspired score for The Incredibles is more memorable and hummable than anything from most live-action superhero movies.
And the track that has been released online, titled "The Master of the Mystic," couldn't be more different than your average superhero movie score. For one thing, it actually does have an instantly recognizable melody. For another thing, it sounds more like an instrumental B-side from a '60s psychedelic band than the end credits music for a Marvel movie. Since director Scott Derrickson has the wonderful habit of tweeting out Pink Floyd lyrics alongside original Doctor Strange artist Steve Ditko's wild, hallucinatory artwork, this choice makes a lot of sense. We'll need to see how this music actually plays within the context of the movie before making a final judgment (will the odder touches heard in the audio below actually exist outside of the end credits?), but this is a strong, and appropriately weird, start. A Doctor Strange movie should be weird and should have a weird score to match!
This piece of music arrives alongside two new promotional clips from the film. The first is a Disney promo obviously intended for the younger set, so go ahead and forgive obnoxious hosts and keep your eyes on the new footage. The focus here is on the magical artifacts Dr. Stephen Strange utilizes in his fight against the forces of mystical evil and I especially like how the red cloak of levitation literally has a mind of its own.
The second clip is the latest TV spot, which features the requisite Avengers name-drop to remind the normal people out there that Doctor Strange is very much a part of the Marvel Cinematic Universe.
Doctor Strange hits theaters on November 4, 2016.