'Candy Crush' TV Show Coming To CBS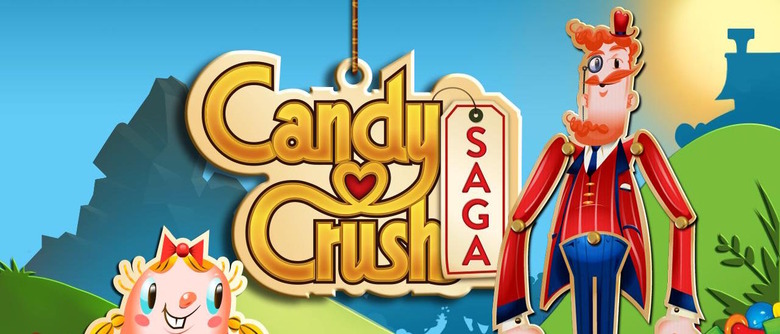 CBS is hoping to turn your mobile game addiction into TV ratings gold. The network has just given the greenlight to Candy Crush, based on the video game franchise that everyone was hooked on a couple of years ago. The TV version will be an hourlong live-action game show played on giant interactive boards with some sort of play-along component for fans watching at home.  
The Candy Crush TV show was announced via press release today. The Candy Crush Saga mobile game has players switching colorful candies to put together three (or more) of a kind and clear them off the board. In the Candy Crush game show, according to the announcement, "teams of two people use their wits and physical agility to compete on enormous, interactive game boards featuring next generation technology to conquer Candy Crush and be crowned the champions."
CBS is teaming with Lionsgate and Candy Crush Saga publisher King on the Candy Crush TV show. Matt Kunitz created the format and will executive produce. He's a reality show vet who got his start on The Real World and whose other credits include NBC's Fear Factor and ABC's Wipeout. "The Candy Crush franchise lends itself perfectly to the kind of larger-than-life, physical game shows that I love to produce and CBS is the perfect home for it," said Kuntz in the statement. "As a Candy Crush Saga player myself, I am excited to amp up the action and visuals in our huge Candy Crush Arena." No host has been named at this point.
First launched in 2012, Candy Crush Saga quickly blew up into a bonafide phenomenon. According to King, Candy Crush Saga and its spinoff, Candy Crush Soda Saga, are still two of the top 10 highest-grossing mobile games in the U.S. That said, the hype around the game seems to have cooled off in recent years, and King (which was recently acquired by Activision Blizzard) has seen its profits decline. Maybe a Candy Crush TV show will be just the thing to get people talking about it again.
In the meantime, just try to keep in mind that it could be worse...