Cool Stuff: Olly Moss' Harry Potter Posters Are Beautiful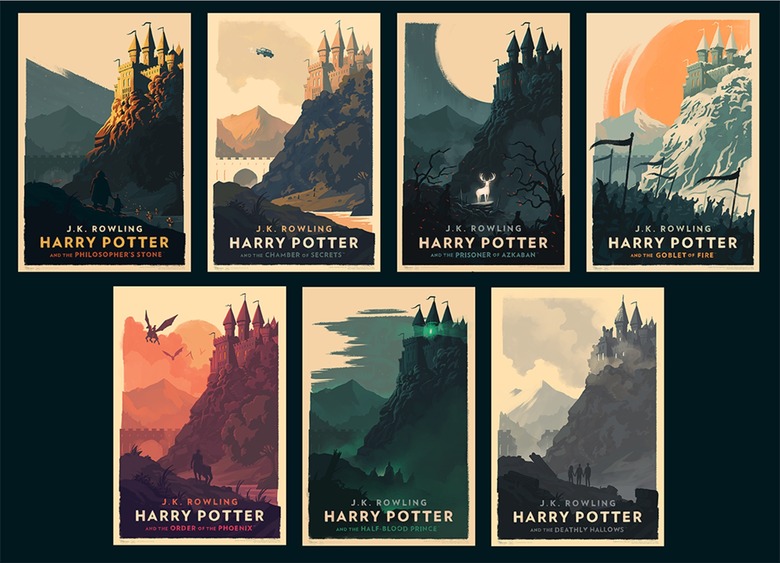 In collaboration with Pottermore, artist Olly Moss is releasing seven officially licensed Harry Potter posters in a timed-edition. Last year Moss worked on a set of new Harry Potter books, giving the covers a new minimalistic look. This set of Olly Moss Harry Potter posters is being released in a timed-edition, , which means any Harry Potter fan that wants them (and has the cash) can own them. Find out more details, after the jump.
Olly Moss Harry Potter Poster Prints Set
These Olly Moss Harry Potter posters are beautiful, and while I'm a fan of the series I'm not sure I have the wall space to dedicate to all seven of these prints. I might end up buying a print of my favorite, Prisoner of Azkaban. Although I think these prints would look best on a wall in a set of at least three, like Moss' Star Wars trilogy.
We've featured a lot of Moss' art over the years, from his work on the Lost art show to his now classic Star Wars trilogy set and much more. The demand for the artist's pop culture prints has grown as he has been away for a couple of years, working on the video game Overwatch.
Moss has revealed that these posters were one of his pitches for the book covers: "I actually pitched like five different approaches. Hoping to share the whole original pitch one day, just waiting for permission."
As for why they are being released as giclee's and not screenprints, Moss offered the following reason: "I thought about it, but managing an unknown number of orders, across seven prints, each probably needing at least eight screens, would just be a logistical nightmare."
Moss chose to release the prints in a timed edition to give regular Harry Potter fans a chance to own them: "That is honestly my thinking behind the long timed edition. Just want these to go to Potter fans who don't necessarily have their finger on the button of the print world."
The art is also being used exclusively as the covers for the Harry Potter audio books in Germany.
How do you buy them? Head on over to Olly Moss' website Moss.fm, where all of the prints are available $50 separately or as a set for $275. The prints are sized 16x24" and hand-numbered. This is a timed edition that will be on sale until 3 pm BST on Monday, October 25th, 2016. Because this is a timed edition and production is based on the volume of orders, they won't be able to start shipping these posters for two or three months. The earlier you order, the earlier your prints will ship. Orders of 4 or more prints will be shipped flat.