'Finding Dory' Deleted Scene Finally Reveals How The Tank Gang Escaped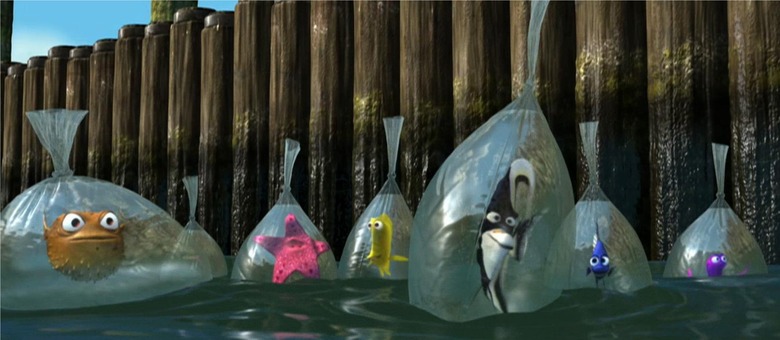 When we first talked with Finding Nemo director Andrew Stanton about his sequel Finding Dory, he told us that about an abandoned series of sequences which involved Marlin and Nemo trying to find Dory. Now with the home video release of the movie on the horizon, this lost sequence is finally seeing the light of day. Hit the jump to watch the Finding Dory deleted scene which reveals how Nemo's tank gang escaped.
Finding Dory Deleted Scene: The Tank Gang Escapes
Back in April, at an early press day, director Andrew Stanton told us the following story:
For Dory to learn to drive on her own basically they had to be separated. So we were like, well, what do we do with them and where do they go? And we had a, I don't wanna give anything away yet, but we had a long, I hope it all comes out on the DVD, 'cause it was really fun. We had a long circuitous route, that's all I'm gonna say, with them that ended up not helping her story at all. And I had to finally just say you're right. And we got so much better stuff that worked and made the movie much better. But as a side idea, it was fantastic. And hopefully it will show up on the DVD.
Stanton said the sequences were in the film for "a long time," admitting that they were "seductive, just put it that way." It makes sense that the subplot was removed as it doesn't service the Dory story, but it does feel a little weird that there is so little finding Dory story in a movie titled Finding Dory (and yes, I understand the clever dual meaning of the title). Now that Finding Dory is getting a home video release (digital VOD on October 25th, 2016 and Blu-ray/DVD on November 15th, 2016) we finally get to see this lost storyline.
The sequence above debuted on EW shows the tank gang's Mission: Impossible-style escape. The sequence features Willem Dafoe and Albert Brooks reprising their Finding Nemo roles, and the scratch sequence was storyboarded by Pixar artists Nate Stanton, Matt Jones, and Max Brace.
While the sequence was cut from the theatrical cut of the movie, the Tank Gang do make a fun cameo appearance at the end of the credits.