Bosch Season 4: Amazon's Smart Cop Drama Gets Another Year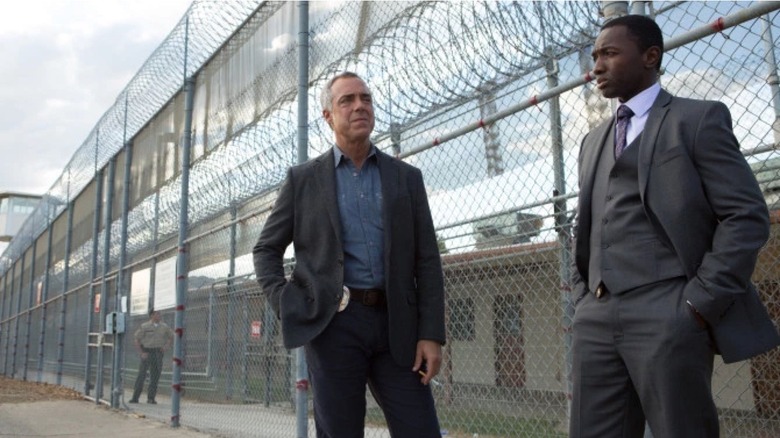 A couple of weeks back, I called Starz's Black Sails the best television series you're probably not watching. If there is a close second in this contest, it's probably Amazon's original drama series Bosch. Sure,other people must be watching these shows or they wouldn't be renewed for multiple seasons, but I see very little buzz about on social media, and none of the friends seem to be invested in these series. Well, the good news is that Amazon has renewed Bosh for a fourth season, ahead of its Season 3 debut in April, so now you have a chance to jump into your Prime Video app and binge the first two seasons. Hit the jump to learn more about Bosch season 4.
While most people are talking about Transparent or The Man in High Castle, Bosch is Amazon's longest-running original drama. The series is based on Michael Connelly's best-selling novels, with Lost/The Good Wife's Titus Welliver's LAPD Detective Harry Bosch taking on a new case. I've realized that I often love television shows that are based on books. For example, the first season of Dexter is based on the first book in that series and plays out almost like a complete movie storyline. One season limited series like Fargo and American Crime Story also offer this same experience.
Television has had some good detective series in the past decade, but often those shows get stretched out by the serialized television format. Something that started off great like The Killing must sustain the twists and turns season over season, and the resulting overarching story feels less cohesive. The fact that Bosch is adapted from the books themselves seems to keep the mysteries on track. So if you're into character dramas and detective stories, you're seriously missing out on Bosch. I also tend to enjoy that this California noir is set around my neck of the woods.
I'm not sure what it is about Amazon shows, but it doesn't seem like they tend to get the same reach as Netflix's original programming. I know for someone like me who is surrounded by the Apple ecosystem, watching Amazon shows involves me having to stream a show from my iPhone to my AppleTV, as Amazon doesn't make an app for the set top box. The experience is not optimal, as you might expect. I understand a lot of people have the Amazon tv stick, which probably makes the experience a lot easier. I even have one somewhere but found the interface too clunky and no longer have it hooked up to my home theater set-up.
Also, it doesn't help that the billboards and advertising for the srries make it look like a generic cop show. Like Netflix, Amazon doesn't release viewership data, but the company has touted high customer ratings for Bosch, noting that season 2 has an average rating of 4.8 out of 5, with 84% of the more than 41,000 people who have rated it giving it a 5-star review.
Amazon Studios Vice President Roy Price released the following statement: "Prime members have loved following Detective Harry Bosch as he navigates difficult situations in his professional and personal lives, and we're excited to let them know that even more is coming."
Connelly added, "I am happy beyond words. To think we are going to get another season to explore these characters is wonderful. Our team has worked very hard to create the most realistic detective show possible, and I think that is resonating with viewers."
Bosch co-stars Jamie Hector (The Wire) as Jerry Edgar, Amy Aquino (Being Human) as Lt. Grace Billets, Madison Lintz (The Walking Dead) as Maddie Bosch, and Lance Reddick (The Wire) as Deputy Chief Irvin Irving. The series was adapted for TV by Eric Overmyer (Treme, The Wire).
The first two seasons of Bosch are currently available exclusively on Amazon Prime Video in the U.S., U.K., Germany, Austria, and Japan. Season 3 of the show is currently in production and expected to premiere sometime in 2017. While Amazon has released no date for Bosch season 4, I would expect it to be released on Amazon Prime Video sometime in 2018.