'Guardians Of The Galaxy' Director James Gunn Wants A Nebula Solo Movie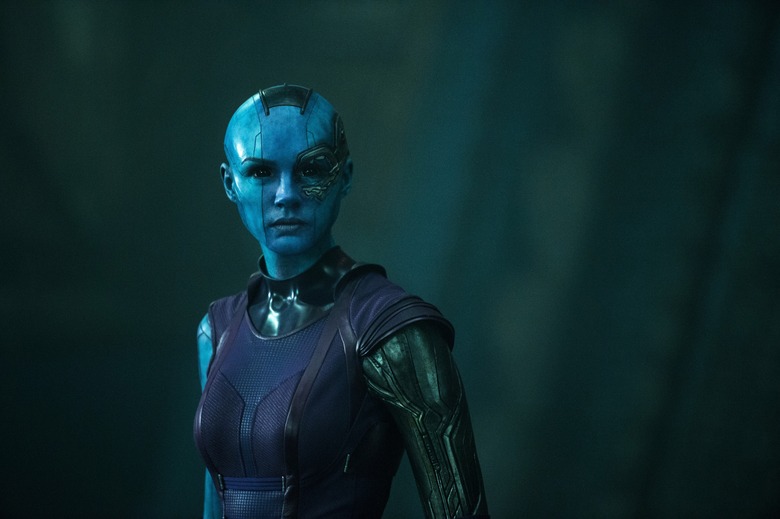 Nebula made her Marvel Cinematic Universe debut in 2014's Guardians of the Galaxy and will be back again for next year's Guardians of the Galaxy Vol. 2. But if James Gunn has it his way, we'll be seeing even more of her in the coming years. The director revealed he'd like to see a Nebula solo film starring Karen Gillan as the blue-skinned badass. Before you get your hopes up, though, keep in mind it's going to be much easier said than done.
Gunn shared his hopes for a Nebula solo film on Twitter, in response to a fan who felt the same way.
Guardians of the Galaxy is one of the MCU's more densely populated properties, with five central characters and countless allies, antagonists, and other associated hangers-on. But honestly, it's hard to imagine most of them anchoring their own solo feature films, since they're so strongly identified as part of a team. On the other hand, though, Nebula stands a bit apart from the rest of the Guardians characters, and as a daughter of Thanos she's probably got some juicy stories to tell.
In any case, that's really all just wishful thinking for now. Marvel's already got their plans mapped out through about 2020 and as of now, we have no good reason to believe a Nebula solo film is among them. For starters, Marvel hasn't shown much interest so far in exploring the cosmic corner of the franchise outside the Guardians films. Then again, if Nebula makes a huge splash in Guardians of the Galaxy Vol. 2, who knows?
For what it's worth, we do know Nebula will have a significant role in that sequel. And Marvel's Kevin Feige has hinted that Nebula could stick around for a while. "If people know the comic lore, Nebula has a lot of varying different roles to play over the course of a lot of different titles in the comics," he said. "We have somebody like Karen, and you have a look that is so weird and so great. I think that's something we'd all like to see again." Assuming she survives Vol. 2, there's a good chance she'll return in Avengers: Infinity War at the very least.
Guardians of the Galaxy Vol. 2 is in theaters May 5, 2017.