'The Walking Dead' Season 8 Already Ordered, New Season 7 Photos Revealed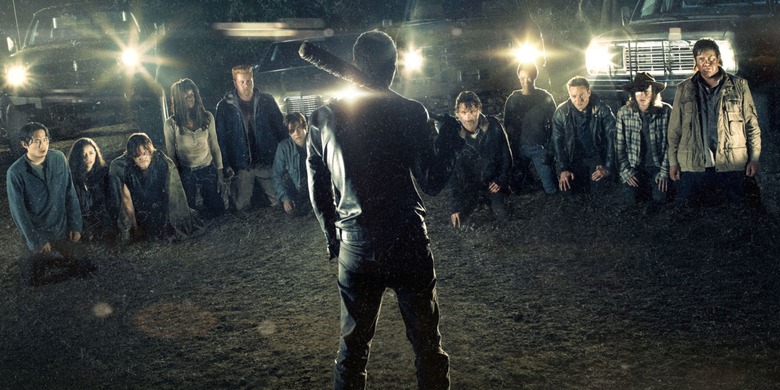 We are just days away from the highly-anticipated Season 7 premiere of The Walking Dead and AMC Networks has announced that the horror comic book television series adaptation has already been renewed for an eighth season. Hit the jump to learn more about The Walking Dead Season 8.
AMC has announced that The Walking Dead Season 8 will premiere in late 2017 with the 100th episode of the series. AMC president Charlie Collier released the following statement:
"Eeny, meeny, miny, more. What a joy to partner with Robert Kirkman, Scott M. Gimple and some of the hardest-working people in television to bring The Walking Dead to the fans. And, most important, thanks to those fans for breathing life into this remarkable series right along with us."
I think it's no surprise that AMC is bringing The Walking Dead back for an eighth season. I'm not a fan of the show but the ratings show I'm clearly in the minority. The zombie series is a juggernaut which is not likely to stop anytime soon.
Alongside the announcement of The Walking Dead season 8, AMC has also renewed the companion show Talking Dead for 16 episodes. Chris Hardwick is expected to return for the after-show, which is currently the highest-rated talk show on television and the number two biggest show on cable, only behind The Walking Dead itself.
The Walking Dead Season 7 will begin on Sunday, October 23rd, 2016, followed by an expanded 90-minute episode of Talking Dead live from the Hollywood Forever Cemetery, featuring Chris Hardwick, the cast members in Negan's line-up, and Lucille. The Walking Dead season seven premiere is titled "The Day Will Come When You Won't Be," described in the official synopsis as follows: "Last season ended with Rick and our group kneeling helplessly before Negan and his group. What Negan does will haunt those who survive forever." AMC has released the following photos from The Walking Dead season 7 premiere:
The second episode of the season is titled "The Well" and has the following synopsis: "For a number of familiar faces, a new, well-established community seems too good to be true." The third episode of the seventh season is titled "The Cell," and will follow "a new group of survivors seem to have it all in their impressive community; however, there is a price."