'Game Of Thrones' Season 7: Daenerys Targaryen Will Finally Meet [Redacted]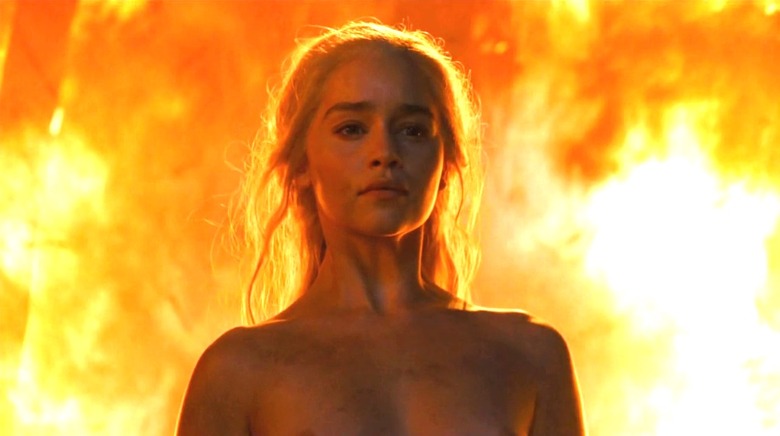 We've got quite some time until we see the seventh season of Game of Thrones hit HBO. To accommodate the shooting schedule, the debut of the new season won't arrive in spring like the previous seasons but will instead hit during the summer of 2017. That was also accompanied by confirmation that this season will have less episodes than the previous seasons as the show begins to wind down. In addition, the later premiere means this season of Game of Thrones wont be eligible to win any Emmys like it did not too long ago.
If you're bummed out from us reminding you of all those facts, we'll try to life your spirits up with some new Game of Thrones season 7 details, specifically about which characters Daenerys Targaryen (Emilia Clarke) will finally meet. But beware that these details venture into spoiler territory, so beware from here on out.
The Game of Thrones fan site Watchers of the Wall has learned some details about the trajectory of Daenerys Targaryen in the seventh season. More specifically, this season will see the Mother of Dragons heading to a rather appropriate location called the Dragonpit. In the books, this is where the Targaryen ancestors used to keep their dragons, but it's now a a giant ruin on Rhaenys' Hill in the city.
If that wasn't cool enough, the most recent revelation from the site reveals that Daenerys will be meeting with two characters she hasn't met on the show yet: Davos Seaworth and Brienne of Tarth, portrayed by Liam Cunningham and Gwendoline Christie respectively. However, it's not clear yet if this is the first time these characters will be meeting or not. There could have been other scenes shot already with these characters interacting, but at least we know at some point this season, their storylines will cross paths.
Since these two are rather loyal to the Stark bloodline, could this be a signal that a Targaryen and Stark alliance is in the works? That would be quite the formidable force to be reckoned with.
We'll just have to wait and see how it all plays out. In the meantime, you can find out more about what's in store this season by checking out the character descriptions that surfaced online back in August. Or if you need another Game of Thrones fix before the new season starts, don't forget there's a concert tour starting in February of next year.
Stay tuned for more soon.