The Big Bang Theory' Creator Chuck Lorre Developing 'The Bonfire Of The Vanities' Series For Amazon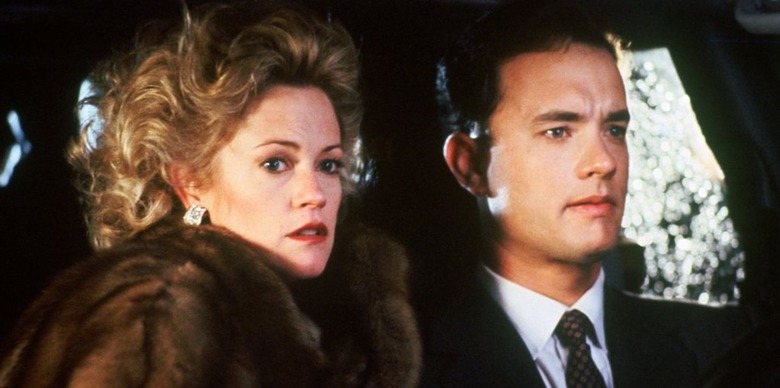 Chuck Lorre, best known for creating Two and a Half Men and co-creating The Big Bang Theory, is taking on slightly different material than we'd typically expect of him. The TV mogul is behind a new adaptation of Tom Wolfe's The Bonfire of the Vanities. Almost 26 years ago, Brian De Palma directed Tom Hanks and Bruce Willis in a disastrous adaptation of Wolfe's novel. Wolfe's story isn't returning to the big screen, but you may be able to stream it one day.
Below, learn more about The Bonfire of the Vanities TV series.
Variety confirmed Chuck Lorre Productions, Amazon, and Warner Bros. TV are developing eight episodes of The Bonfire of the Vanities. Another executive producer on the project — and this may give fans of Wolfe's novel who aren't avid watchers of The Big Bang Theory some hope — is Margaret Nagle, who wrote two excellent episodes of Boardwalk Empire from season one and created the short-lived Red Band Society. Nagle will serve as a writer on The Bonfire of the Vanities TV series as well.The Bonfire of the Vanities was Tom Wolfe's first novel but eleventh book. Wolfe originally wrote the story for Rolling Stone magazine. From 1984 to 1985, each new issue of the magazine featured a new chapter. After the serialized publication was completed, the author spent the next two years researching and polishing his satire of New York, which took a look Wall Street, the wealthy and the poor, and more. The Bonfire of the Vanities, published in 1987, was an acclaimed bestseller.
The novel follows Sherman McCoy (played by Hanks in the film), a young investment banker who has his life changed by a freak accident. Here's the book's synopsis:
Tom Wolfe's modern American satire tells the story of Sherman McCoy, a Wall Street "Master of the Universe" who has it all – a Park Avenue apartment, a job that brings wealth, power and prestige, a beautiful wife, an even more beautiful mistress.
Suddenly, one wrong turn makes it all go wrong, and Sherman spirals downward in a sudden fall from grace that sucks him into the ravenous heart of a New York City gone mad during the go-go, racially turbulent, socially hilarious 1980s.
There are no other details on what Chuck Lorre has planned for the adaptation. Maybe Wolfe's near-700 page fiction novel will have better luck as a series, although that isn't saying much. De Palma's film was plagued with problems, like Bruce Willis, and made under $16 million at the box-office. The issues the 1990 adaptation faced are documented by Julie Salamon's The Devil's Candy: The Bonfire of the Vanities Goes to Hollywood.