'Rogue One: A Star Wars Story': Six-Minute Supercut Combines All The Footage Released So Far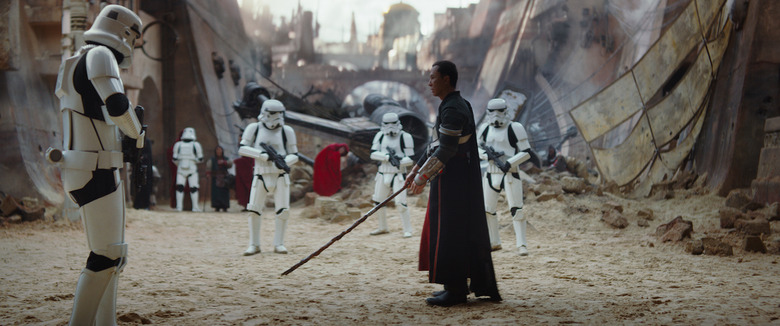 Earlier this week Disney released the third and final trailer for Rogue One: A Star Wars Story, and they really made it count. The latest promo was jam-packed with tons of new footage, including our first real look at Galen Erso (Mads Mikkelsen) in action and more material involving Darth Vader. But how exactly does it fit in with the scenes we've seen in the other trailers?
A Rogue One footage supercut puts all the material released so far into one long six-minute "trailer," giving us our most complete look yet at the first spinoff set within the Star Wars universe. Check it out below. 
While the Rogue One footage supercut is a fanmade video, not something put together by Disney, it puts together all the Rogue One scenes officially released by Disney. The mashup pulls from the first teaser released in April, the first full-length trailer released in August, the second full-length trailer released this week, the international trailer released over the summer, and the behind-the-scenes sizzle reel from Star Wars Celebration.
The sound is a bit messy sometimes (understandably so, since the video is splicing together scenes from so many different trailers), but all together, they promise a soaring war epic that's equal parts gritty and inspirational. I get chills when we see Orson Krennic talk to Darth Vader, or when Jyn Erso declares, "We'll take the next chance... and the next."
Although we won't see any more Rogue One domestic trailers in the next couple of months, that doesn't mean we've necessarily seen the very last bit of footage. We can still expect to see some clips and TV spots come out before Rogue One: A Star Wars Story lands in theaters December 16, 2016.
From Lucasfilm comes the first of the Star Wars standalone films, "Rogue One: A Star Wars Story," an all-new epic adventure. In a time of conflict, a group of unlikely heroes band together on a mission to steal the plans to the Death Star, the Empire's ultimate weapon of destruction. This key event in the Star Wars timeline brings together ordinary people who choose to do extraordinary things, and in doing so, become part of something greater than themselves.
"Rogue One: A Star Wars Story" is directed by Gareth Edwards and stars Felicity Jones, Diego Luna, Ben Mendelsohn, Donnie Yen, Mads Mikkelsen, Alan Tudyk, Riz Ahmed, with Jiang Wen and Forest Whitaker. Kathleen Kennedy, Allison Shearmur and Simon Emanuel are producing, with John Knoll and Jason McGatlin serving as executive producers. "Rogue One: A Star Wars Story" opens in U.S. theaters on December 16, 2016.