'Fantastic Beasts' Will "Feature" A Certain Hogwarts Professor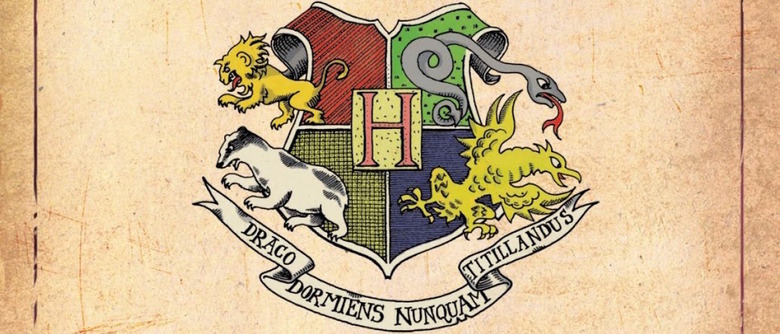 Yesterday came the surprising news that Fantastic Beasts and Where to Find Them wasn't just the start of a new trilogy, but the first in what will become a five-film series from J.K Rowling. That's rather ambitious for a spin-off franchise that hasn't proven itself to audiences yet, but surely the Harry Potter fanbase is strong enough to support it. If anything it's a vote of confidence from Warner Bros. Pictures in the new direction for the wizarding world. But this new journey will come with at least one familiar character.
During the fan event for Fantastic Beasts and Where to Find Them that took place in London, J.K. Rowling talked about what the future of the franchise looks like, and she mentioned a certain Hogwarts professor who could be a big part of it. Then director David Yates seemed to confirm that this character will indeed appear in the first film. Find out about the Fantastic Beasts and Where to Find Them cameo below.
According to BBC News, during yesterday's fan even in London, J.K. Rowling said, "We do talk about Dumbledore and Grindelwald," implying that the relationship between Albus Dumbledore and Gellert Grindelwald, which was detailed in Harry Potter and the Deathly Hallows (primarily the book), could prove to be a key part of the franchise. That shouldn't come as a surprise since the latter dark wizard was mentioned by name in the most recent trailer for Fantastic Beasts.
Adding more fuel to the fire is director David Yates (already set to be at the helm of the first Fantastic Beasts sequel arriving in 2018), who had this to say about bringing Dumbledore and Grindelwald into the fray more prominently:
We can't tell you too because we'd have to kill you all, but we do mention Dumbledore and he features in a wonderful scene between Colin [Farrell] and Eddie [Redmayne]. Grindelwald does feature in the background and is going to become a much more prominent feature moving forward.
Now that doesn't sound like flat-out confirmation of Albus Dumbledore being in the first Fantastic Beasts film, but he specifically says Grindelwald only features in the background. But since Yates mentions a specific scene in the film with regards to Dumbledore's presence in the film, it sounds like the character will have at least a cameo in the movie. That would confirm hints that Albus Dumbledore may appear after he was also mentioned by name in one of the previous Fantastic Beasts trailers.
The question is whether or not franchise star Michael Gambon will be brought back in to play Albus Dumbledore. Visual effects make it much easier for older actors to play the younger versions of themselves nowadays, but if Dumbledore is to play a bigger role in future installments of Fantastic Beasts, a younger actor may be preferable for the role. We'll have to see how this plays out when Fantastic Beasts and Where to Find Them debuts on November 18.