'Doctor Strange' Will Not Feature Night Nurse; New Featurette Digs Into The Characters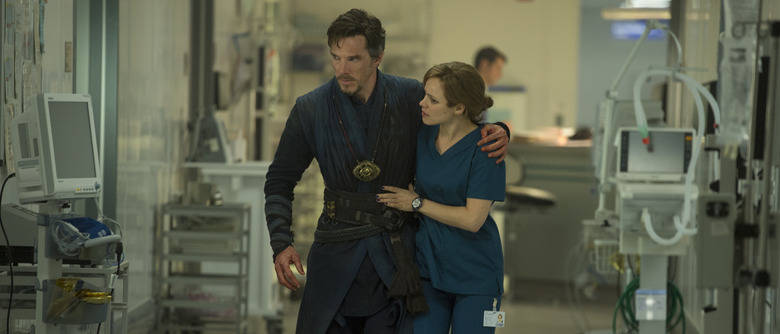 Although Doctor Strange is the 14th film in the Marvel Cinematic Universe franchise, all of its core characters are new to the big screen. Sure, comic book fans might know about the Sorcerer Supreme or the Ancient One already, and sure, even casual moviegoers are probably familiar with the likes of Benedict Cumberbatch and Tilda Swinton. But what will Cumberbatch be like as Stephen Strange, or Chiwetel Ejiofor as Mordo? A new featurette offers a closer look at some of the performances we can look forward to seeing in the movie.
Meanwhile, there's also some news about one character we won't be seeing in Doctor Strange. Ever since we learned Rachel McAdams would be playing Christine Palmer, fans have wondered if she might take on her comic book alter ego, Night Nurse. However, Kevin Feige has now shot down that rumor in no uncertain terms. 
Marvel dropped a character featurette for Doctor Strange, featuring Feige, Cumberbatch, Ejiofor, Swinton, McAdams, and Benedict Wong. Oddly, Mads Mikkelsen, who plays the villain Kaecilius, is not mentioned here.
There's all the usual stuff here about how great the cast is and how cool all the characters are. McAdams gushes about how "incredible" Swinton looks, Swinton praises Cumberbatch for having "the brains and the wit" for the character, Cumberbatch talks up the "utterly inspiring" cast surrounding him, and so on. Everyone talks a little bit about how their respective characters are connected to Stephen Strange, and we get to see a bit of the good doctor's sense of humor. ("Just Wong? Like Adele?" he snarks when Wong introduces himself.) But it's Ejiofor who says what I've been thinking all along: "It's weird having two Benedicts in a movie."
But for all the superhero drama teased above, one arc we will not be seeing here is Christine Palmer's evolution into Night Nurse. In the comics, the Night Nurse moniker is shared by several characters including Palmer, so naturally many fans wondered if McAdams' Palmer might take on the mantle in the movies. Speculation heated up further when Daredevil showrunner Steven DeKnight revealed he'd originally wanted to cast Rosario Dawson as Night Nurse in the Marvel Netflix shows, but had been told by Marvel higher-ups that they were saving the character for big-screen plans down the road.
According to Feige, though, we will not be seeing McAdams play Night Nurse — or at least not in this movie. While the actress isn't saying either way ("Mum's the word," she said), Feige was able to confirm that there will be no Night Nurse in Doctor Strange. "I will say that that story line does not play into the movie," he told Entertainment Weekly. But he is not ruling out the possibility of going down that road in a future film. "It's just as much fun for us as it is for the fans to speculate about that," he teased.
Doctor Strange hits theaters November 4.