Four 'Fantastic Beasts' Sequels Announced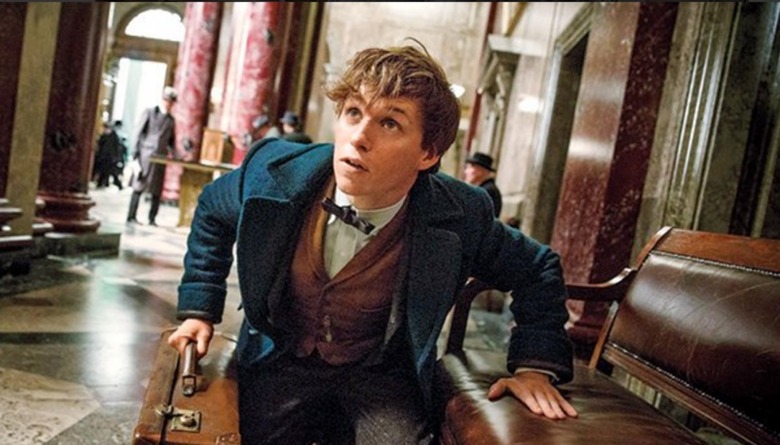 It's no secret that Warner Bros wants to reignite the Harry Potter franchise with Fantastic Beasts and Where To Find Them. Today at the Fantastic Beasts and Where To Find Them fan event, author J.K. Rowling announced that they were making five Fantastic Beasts movies in total. Hit the jump for more details on the Fantastic Beasts sequels.
We've always known that the studio was planning to make multiple movies, and we've even heard that a sequel has already been written by J.K. Rowling herself and is scheduled to hit theaters in November 2018. But what we didn't know was how many Fantastic Bests movies they were planning.
If we're looking at the release pattern, this probably means we'll see the third Fantastic Beasts in Holiday 2020, a fourth film two years later in 2022 and the fifth and final movie in 2024. Of course, none of those release dates have been confirmed by Warner Bros. The studio does have the November 20th, 2020 date flagged for an "Untitled WB Event Film." This is an even bigger show of confidence than
This is an even bigger show of confidence than the Avatar series, which has four sequels already announced. Sure, the Harry Potter franchise has a huge fanbase, but we haven't even seen if those fans will connect with the story and characters in Fantastic Beasts, which hits theaters November 18th, 2016.
Are Harry Potter fans excited about this announcement? I know when I used to write about the Potter films the stories would be heavily trafficked but none of the Fantastic Beasts coverage seem to move the needle. But maybe that's because it's more of an unknown quantity. I'm sure it will be different once fans begin to see the movie.
Here is the official information for Fantastic Beasts:
Academy Award winner Eddie Redmayne ("The Theory of Everything") stars in the central role of wizarding world magizoologist Newt Scamander, under the direction of David Yates, who helmed the last four HARRY POTTER blockbusters. The film also stars Katherine Waterston, Dan Fogler, Alison Sudol, Ezra Miller, Samantha Morton, Jon Voight, Ron Perlman, Carmen Ejogo and Colin Farrell. The film was produced by David Heyman, J.K. Rowling, Steve Kloves and Lionel Wigram.
FANTASTIC BEASTS AND WHERE TO FIND THEM opens in 1926 as Newt Scamander has just completed a global excursion to find and document an extraordinary array of magical creatures. Arriving in New York for a brief stopover, he might have come and gone without incident...were it not for a No-Maj (American for Muggle) named Jacob, a misplaced magical case, and the escape of some of Newt's fantastic beasts, which could spell trouble for both the wizarding and No-Maj worlds.
The film marks the screenwriting debut of J.K. Rowling, whose beloved HARRY POTTER books were adapted into the top-grossing film franchise of all time. Her script was inspired by the Hogwarts textbook FANTASTIC BEASTS AND WHERE TO FIND THEM, written by her character Newt Scamander.