'Wonder Woman' Will Stay True To The Hero By Being "Hopeful, Optimistic"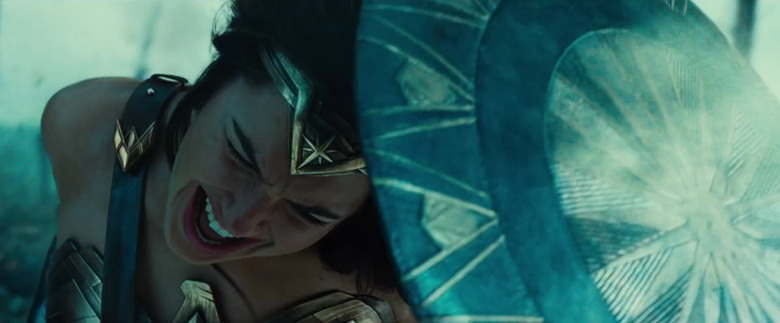 One of the most common criticisms of the DC expanded universe so far (from fans and critics alike) has been the consistently, overtly dark tone of the movies. Both Man of Steel and Batman v Superman: Dawn of Justice just seem dour for the sake of being dour, and while Suicide Squad had a little more fun with the comic book world, many are hoping future movies will lighten up a bit. The tone of Justice League certainly indicates a change in tone, at least if the sizzle reel from Comic-Con is any indicator, but it sounds like Wonder Woman will be the one that really stands out.
Diane Nelson, President of DC Entertainment and President of Warner Bros. Consumer Products, producer Deborah Snyder and director Patty Jenkins recently opened up a bit about what to expect from Wonder Woman, specifically with regards to how it will be different from the previous DC movies, especially with regards to a lighter tone.
Find out what the filmmaker had to say about the Wonder Woman tone after the jump.
Speaking with Variety, producer Deborah Snyder first went out of her way to point out how Wonder Woman will stand out:
"'Wonder Woman' is very different in tone and style than 'Batman v Superman' and 'Suicide Squad.' We pick directors who have their own points of view, so that each of our films will have their own personality."
Diane Nelson was next to champion Wonder Woman, going out of her way to make it clear that all of the DC movies don't have a mandate to be darker and grittier:
"There's a misconception that DC or Warner Bros. has made a conscious decision for all our movies to be darker or edgier. That's not the case. Fans of the DC universe know that there are characters, like Batman, who are darker, but there are others like Wonder Woman, who are hopeful, optimistic leaders, and the tone of this film represents that. Patty brought a beauty and a sense of lightness or humor, and a little romance to it. It's a very aspirational movie.""
So how is director Patty Jenkins making that happen? Apparently, she looked to inspiration from the first big screen iteration of Superman:
"'Superman' was all about you. It was about you watching and realizing what it would feel like to have great powers and do great things. It was full of love and emotion."
Some of that shines through in just how Wonder Woman fights as a hero, which is how she's been depicted for 75 years now. Diane Nelson points out:
"Her armor, the shield, the lasso, and so forth are what you could describe as defensive weapons as opposed to offensive weapons. That's a pretty good way to think about the way she fights. She's not choosing to fight for the thrill of battle. She's fighting because she believes in something and she's quick to put down that sword when the opportunity is there."
That's an excellent observation, but let's not forget that Wonder Woman also has a sword, so she's not afraid to be on the offensive when it's called for. We're just glad that the hero's first solo outing on the big screen will have some hope and brightness to it. The first trailer alone was enough to inspire loads of confidence, and it's clear that this isn't a Zack Snyder movie, even though he had a hand in writing the script. Hopefully, the rest of the solo movies for the members of the Justice League will follow suit.
Wonder Woman arrives in theaters on June 2, 2017, and she'll return in Justice League on November 17, 2017.