Interview: 'Legends Of Tomorrow' Producers On Fixing Season One Mistakes And Adding New Characters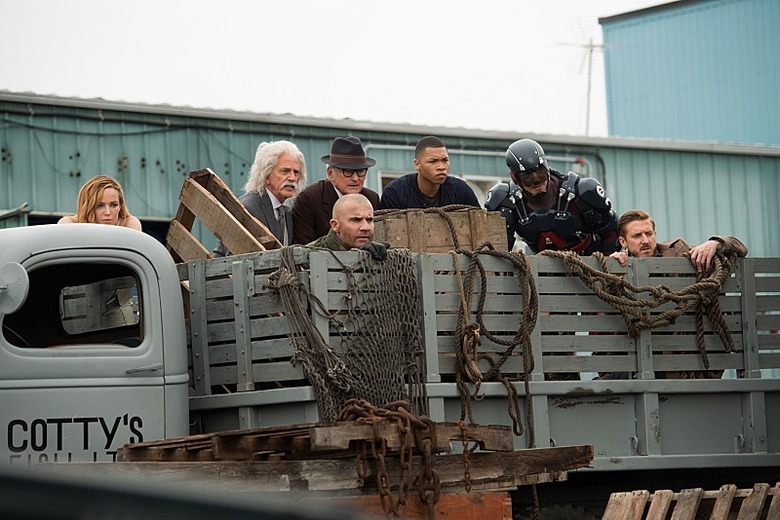 Over the summer, The CW had a lot of news about the DC superhero shows for the Television Critics Association. CW President Mark Pedowitz promised improvements to Legends of Tomorrow, correcting some of its first season mistakes, and announced casting, such as Lance Henriksen as Obsidian.
After all the CW panels, we got to speak with Legends of Tomorrow creator/executive producers Phil Klemmer and Marc Guggenheim further. We were able to delve deeper into what the Justice Society of America has in store for the Legends and what other time periods they might visit in the Waverider this season. 
Between Dolph Lundgren on Arrow and Lance Henriksen on Legends of Tomorrow, did you guys just go through the catalog of '80s character actors?Klemmer: I did work on Chuck. I've worked with [Lou] Ferrigno, Linda Hamilton... Yeah, as children of the '80s.Guggenheim: I think what's nice is we don't start off going, "We've got to cast this person." We create the character, so we write the characters and then we go, "Okay, who would be fun to have play them?" Actually, what was awesome in both the case of Lance and Dolph, they were our first choices. It was like oh, this character has to be Lance. This character has to be Dolph. Fortunately they said yes.How many episodes do you have Lance for?Klemmer: Oh, well, we don't know. It's episode by episode.Guggenheim: He'll be in 205 and then the question really gets to how much of the JSA we're going to see. In the back half of the year, they'll play a role in the central mythology of season two.Given that the JSA is against Rip Hunter right now, is Lance playing a heavy?Guggenheim: No, no, he's not. We're not really playing any of the JSAs as heavies. It's just a powerful convention that when you've got two superhero teams meeting each other, they first have to punch each other.It's the best part of The Avengers, the beginning when they don't like each other at first.Guggenheim: Absolutely, I thought Joss [Whedon] did a great job with that actually. Even in Avengers 2 he found ways to get the superheroes fighting each other. It's one of the key required elements of any superhero team up.Is Obsidian the last JSA left at this point?Klemmer: Maybe. You've got some good instincts. You wouldn't be out of place in a writers room.Mark Pedowitz, the CW executive, said there were some discussions about making improvements for season two of Legends of Tomorrow. Could you go into more detail about those improvements?Klemmer: I think what we felt, after having done a pilot that went straight into series, was that we showed too many of our cards. We established the bad guy, what he does, how he does it, when he does it. We wanted season two to be much more of a mystery, much more amorphous and having a Legion of Doom which is obviously a misnomer because they're not necessarily on the same page about what their dastardly agendas are. We wanted to allow our characters the chance to have fun and to be themselves. To have the world coming to an end, it's so dire and epic that it doesn't afford them the chance to do what they do best. Like Marc was saying, it's fun to watch our guys not getting along. It's like herding cats on the Waverider and now that we have lower stakes missions, the paradoxes become more interesting because there's a million different ways to go about their missions.On television, every episode doesn't have to be the end of the world.Guggenheim: That's the thing. We basically started the process by looking at the episodes last year that worked and asking ourselves okay, why did those episodes work? We looked at the episodes that didn't work and asked ourselves why didn't those episodes work? I think it's very reductive, but I think ultimately what we ended up doing is we designed a season and a concept behind the season that allowed us to do all the stuff we do well which is go to cool time periods, get into trouble, have fun, have humor.Klemmer: Save the day by the skin of our teeth despite our unorthodox slapdash methods.Guggenheim: Then avoid the stuff we didn't do as well which was the interpersonal romance, the nature of one villain driving every episode, sometimes time periods that just weren't that iconic. We really retooled everything about the show. I'm very happy with the results.What do you think were your strongest episodes in season one?Guggenheim: We always reference eight, 11 and 15.Klemmer: So it's the Wild West or the '50s monster movie one. 15 was the penultimate Vanishing Point escape and destruction.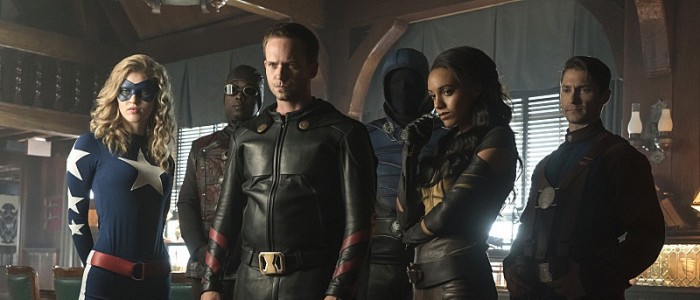 Do you think you might have the Legends visit 1996 and use the set of Frequency?Guggenheim: [Laughs] I don't even know where Frequency shoots.Klemmer: It's Vancouver.Guggenheim: You know, we're going to 1987 in episode five which I think is as close to the '90s as we've gotten. We talk about the '90s a lot.Klemmer: Most of my clothes are still from the '90s so I'd be great as an extra. I could just get my flannel on.When you add new characters to the Waverider, with which of the existing characters do they have the juiciest conflicts?Klemmer: The thing is, I feel like Nate [Heywood, played by Nick Zano] is hard to dislike. He's just a lovable guy. He's so psyched to be just part of the team. That's his natural energy as an actor.Guggenheim: Probably some of his best stuff is with Brandon [Routh]'s character, Ray Palmer. But then he's got some good stuff with Amaya, Maisie [Richardson-Sellers]'s character in episode five. Then Maisie, I think the two dynamics people will enjoy the most are her dynamic with Sara [Lance, played by Caity Lotz] and her dynamic with [Mick] Rory [played by Dominic Purcell].Does Ray just get along with everyone?Guggenheim: He's Ray.Is it hard to find someone he can't get along with?Guggenheim: It is hard to find someone he can't get along with.Klemmer: He does become Rory's de facto new partner. They were joined together by Snart's sacrifice. In a weird way, Snart's legacy is forcing these two men into proximity. Rory pretends to be no big fan of that but I think deep down Rory does care for Ray. He'd never let him know.Wentworth Miller is going to appear on The Flash. Could he come back to Legends of Tomorrow?Guggenheim: He'll be a member of the Legion of Doom. He will.Klemmer: He reverted. He's in his natural state.We know Victor Garber wants to be part of the Flash/Supergirl musical. Would you want to touch any musical component on Legends of Tomorrow?Klemmer: Legends is crazy enough without people breaking into song.Guggenheim: We got Victor singing in episode 2.Klemmer: To a room of Nazis.Guggenheim: That's enough. We're good with that.
***
Season two of Legends of Tomorrow premieres Thursday, October 13 at 8PM on The CW.