'Doctor Strange' Blacklight Posters And Psychedelic Image Will Open Your Mind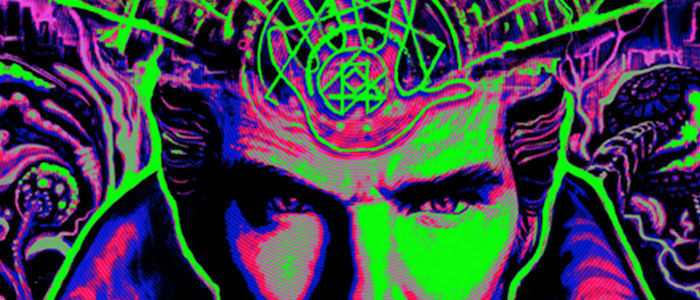 As the marketing campaign moves into the home stretch, Marvel's Doctor Strange is really letting its freak flag fly. The latest promos have really played up the trippy vibe of the movie, with Marvel Studios head Kevin Feige director Scott Derrickson talking up the strong Steve Ditko influence. Now the studio's released a couple of psychedelic blacklight posters to help expand your mind even further. Check 'em out below, along with a cool new image that also leans into the colorful craziness.  
IGN debuted the two Doctor Strange blacklight posters designed by Randal Roberts.
And if you like what you see, the good news is you can get your own. These Doctor Strange blacklight posters will be handed out to AMC Stubs member who see the movie in IMAX at AMC theaters November 4-13.
As crazy as they look, the blacklight posters are actually kind of a throwback. In the 1970s, Marvel released a series of blacklight posters. Last year Derrickson revealed that he'd been able to get his hands on a Doctor Strange one after a lengthy search. The new posters seem to be a nod to that history.
And the movie itself takes inspiration from that imagery too, as Feige revealed to our own Peter Sciretta on the set of Doctor Strange earlier this year.
And I would say that Steve Ditko and the art of Steve Ditko is a huge inspiration for us. Not really anything in this room, but for a lot of our interpretation of the multiverse and various dimensions come right out of all of the art of those early comics that Mr. Ditko did, and challenging our amazing visual effects vendors and visual effect supervisors – saying, 'Let's put this on the screen.'
It's really weird. You don't want to turn away from that. You suddenly don't want to make it sort of... turn it into a galactic cosmos... it needs to be strange. It needs to be weird. It needs to be absolutely inspired from those images. I'm sure Scott Derrickson will talk to you today, and I think it might even be his twitter handle picture – a particularly panel from the Ditko era that I think was turned into a blacklight poster that he remembered having. And that is been so much of the visual inspiration of the movie.
In fact, you can see some of that Ditko feeling right here in a new Doctor Strange still (via EW):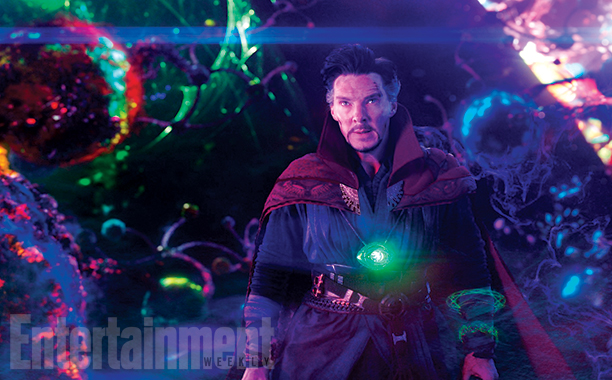 Doctor Strange is the fourteenth entry in the Marvel Cinematic Universe, and it's to the franchise's credit that they manage to keep surprising us. In some ways Doctor Strange looks like a fairly familiar origin story — "arrogant man gets knocked down a peg, becomes a superhero" was also the foundation for the very first movie in the series, Iron Man — but the mind-bending visuals and time-bending story should give it a flavor all its own.Doctor Strange opens November 4 in the U.S.