'Stranger Things' Season Two: Duffer Brothers Talk Fan Theories & Expanding To Nine Episodes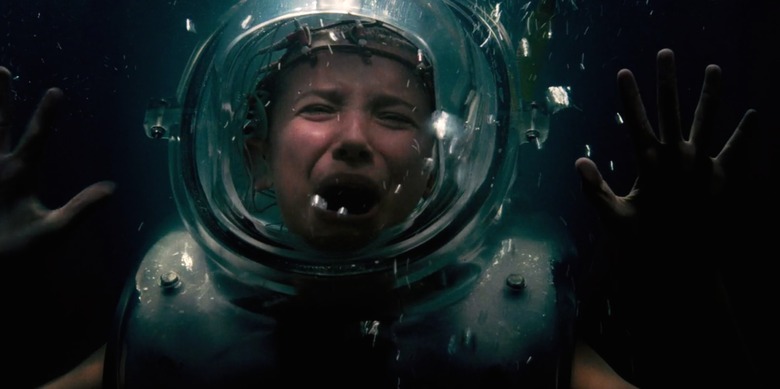 Over the summer Matt and Ross Duffer were writing Stranger Things season two. Before their hit sci-fi series even debuted on Netflix, the second season had the greenlight. Already fans are theorizing about what's in store with season two, especially after the teaser trailer revealed some episodes titles. According to the Duffer Brothers, some of these fan theories are correct.
Below, the Duffer Brothers discuss Stranger Things season 2 fan theories and why they expanded to nine episodes.
Matt and Ross Duffer discussed the experience of making season one, the response, and some of their plans for the show with The Hollywood Reporter. The teaser sparked the curiosity of many Stranger Things fans, causing plenty of speculation online. Some of the theories the Duffer Brothers have come across are actually spot on (or at least close):
Matt: Netflix had another teaser, but it was about going back to stuff that had happened already. I thought it wasn't exciting enough, and we wanted to provide some hint of where we were going in season two without giving anything away. I do think some of the titles will change. There were titles we didn't want to put on there because we felt like it would give too much away. The whole season was already broken when we did this.
Ross: So we did have a lot that we could tease.
Matt: Even if they aren't the final chapter titles, everything in that teaser is major. But they're ambiguous enough that no one is going to be able to figure it out. Some of the fan theories online are amazing. Most are wrong, but I've read a few that are right or very close. Is it Reddit? Some of those people have figured stuff out based off of the chapter titles.
Ross: Some of these theories are elaborate and smart. They're not crap. I love reading this stuff.
Matt: But we don't go on Reddit.
Ross: No, people send us the stuff. I know I would never get out if I went in there.
One thing that is for sure about season two is we'll see more of the upside down world's effect on Will. Season one ended in such a way you knew that was coming, but it'll likely provide more opportunities to explore the upside down world and expand the show's mythology.
Here's what Matt Duffer said about limitless possibilities of dealing an alternate dimension, Will, and their game plan:
Even way back when we pitched to Netflix the first season, we talked about where it would potentially go. They understood the potential. Season one does almost feel like a big movie that comes to a sort of ending. A lot of that was based on the character of Will and the repercussions of him being in this upside down world for a week. Exploring that would be the second season. Once we got into the room for season two, we started expanding our mythology. We never got boxed in, because we're dealing with an alternate dimension. It feels like the possibilities are limitless. We're building up the mythology in a way that we know now where we want the story and these characters to end. We have more of a game plan now than we did two years ago.
Two years ago, the Duffer Brothers were imagining eight episodes of Stranger Things. With season two, they only have one more to work on, but why exactly nine episodes for the second season? Why not eight or ten? Here's Ross' response:
Netflix didn't pressure us to do more or anything. We don't feel like we need a full 10 episodes. But it can't quite fit in eight, so that's how we ended up in nine. And I think in future seasons it will be the same thing. Let's break out the story and see what we need. Whatever number it ends up at, great. The thing I like about keeping it down to eight or nine is that we're able to more meticulously control things and try to keep it from turning into this machine that's grinding things out. If it gets much longer, it could become unwieldy and just turn into a traditional show — which is what we're avoiding.
Ross went on to say the second season will "ramp it up like a coaster that just keeps getting bigger and bigger, and it builds to this big, climactic finale." Because that's the approach to the structure of season two, 13 or too many more episodes would've led to "treading water." With season two, when it comes to the episode count, Netflix told the brothers to do whatever they think they need to do to tell the best story.