Felicity Jones On 'Rogue One' Reshoots: "Actually, We Could Do This Better"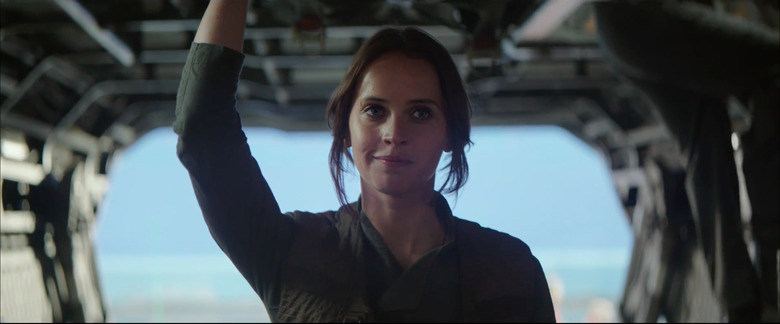 Over the summer there was a lot of drama regarding reshoots on Rogue One: A Star Wars Story. At the end of May, the story of Rogue One reshoots first emerged, indicating that Disney was unhappy with the first cut of the Star Wars spin-off from Godzilla director Gareth Edwards. A follow-up indicated that the reshoots were intended to lighten up the tone a bit, while another story made the situation sound more dire with reports that 40% of the movie needed to be reshot. Then clarification came detailing the extent of the reshoots and who was involved behind the scenes. This all unfolded over a single week.
Now a few months later, we have a little more perspective from Lucasfilm president Kathleen Kennedy and Rogue One lead actress Felicity Jones. It should come as no surprise that they're each playing it off as business as usual, saying the reshoots were nothing out of the ordinary.
Felicity Jones is profiled in a recent issue of The Hollywood Reporter, and within that story comes some tidbits about Rogue One: A Star Wars Story. The actress plays down the significance of reshoots on what has been called an experimental Star Wars film, simply because it's the first live-action Star Wars movie that's ever been done outside of the primary saga narrative. Jones said:
Obviously when you come to the edit, you see the film come together and you think, 'Actually, we could do this better, and this would make more sense if we did this. I've done it so many times. I mean, you wouldn't just give your first draft on this story, would you?
That's a fair point. But the schedule for reshoots was rather rigorous, and even though Disney has expressly come out against the idea that 40% of the movie had to be reshot, there have still been rumblings that a lot of fixes needed to be made to Rogue One in order to get it into a shape that everyone was happy with. Still, Kathleen Kennedy is playing it cool. She was asked about the reshoots for this particular profile and said:
I'm sure if you picked up the phone and called every single large, technical movie and said, 'You ever gone in and done reshoots?' they'd all say, 'Oh God, yes.' So why has it turned into a big story? Because it's Star Wars, and they put a spotlight and scrutinize every single thing that gets done. But it was always planned and nothing unusual.
There's definitely more of a spotlight on Star Wars movies than other franchises, with every little detail being examined under a microscope. But still, even though reshoots aren't always a bad thing for a movie, there's a lot riding on Rogue One. If this spin-off doesn't pan out, it might change how Disney and Lucasfilm approach future movies in the Star Wars universe. So hopefully the reshoots that were done, no matter how extensive they are, ended up improving the final cut we'll see on December 16.