'Black Mirror' Season 3 Featurettes Tease More Technological And Social Media Horror Tales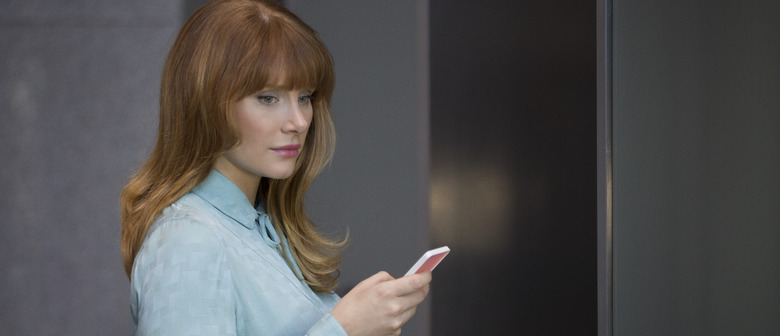 Black Mirror returns to Netflix on October 21 with its third season and I couldn't be more excited and horrified. Charlie Brooker's technology-centric anthology series is the closest thing we have to a modern version of The Twilight Zone, a show that blends science fiction and horror and satire and tragedy into a delicious, mortifying, and addictive stew. Almost every episode so far has chilled me to my core and I love it to pieces and I love that a fourth season is already in the works.
But while we're waiting, how about we all settle in and watch a pair of new Black Mirror season 3 featurettes that explore the concepts of two new Black Mirror episodes?
The first of the Black Mirror season 3 featurettes offers a look at "Nosedive," an episode starring Bryce Dallas Howard, directed by Joe Wright, and written by Charlie Brooker, Rashida Jones and Michael Schur. The premise is classic Black Mirror, taking social media concepts and making them literal in the most uncomfortable ways imaginable. In this case, what would the world be like if you could rate other people based on personal interactions? And what if having a higher score meant discounts and other various perks?
Black Mirror Season 3 Featurettes: Nosedive
"Nosedive" was one of two episodes Angie Han saw at the Toronto International Film Festival and she had mostly nice things to say about it:
If the message of "Nosedive" is ultimately rather simplistic (yep, turns out the meaning of life does not lie in phony popularity), the characters' fixation on upvotes will feel uncomfortably familiar. Lacie puts herself under intense pressure to maintain a picture-perfect facade, and FOMO seems to bleed into every minute of her day. It's a slightly amplified version of our already existing obsession with Facebook likes and Twitter favorites, and it's chilling to realize we probably aren't that far removed from simply rating each other.
It's a testament to Black Mirror's malleability that the other episode profiled with a new featurette, "Playtest," looks like a completely different experience in every way. Directed by Dan Trachtenberg and written by Charlie Brooker, the episode stars Wyatt Russell as a thrill seeker who finds himself play testing a new video game with disturbing results. The focus here seems to be very much on telling a techno-horror story, although knowing this show, the real hook has yet to be revealed.
Black Mirror Season 3 Featurettes: Playtest
With Black Mirror season 3 less than two weeks away, we'll surely have more to say about these episodes in the very near future.