'The Accountant' Early Buzz: Ben Affleck's Action Thriller Is Preposterous, Ludicrous & Fun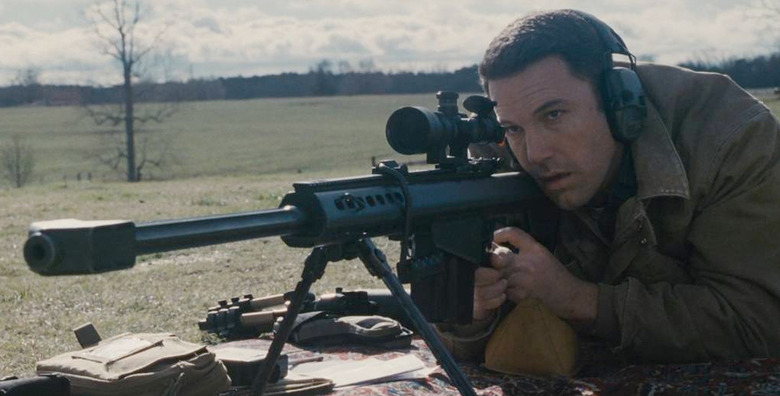 This weekend brings Gavin O'Connor's action thriller The Accountant to theaters, giving us a second round of Ben Affleck action following his debut as the Dark Knight in Batman v Superman: Dawn of Justice. The trailer promised an engaging thriller following an assassin under the guise of an accountant who also happens to fall on the autism spectrum. So how did the movie turn out? The consensus seems to be that the movie's concept and plot are rather ridiculous, but that doesn't stop the movie from being enjoyable while also garnering comparisons to Batman.
Find out what the first batch of The Accountant reviews have to say after the jump.
Alonso Duralde from The Wrap says the silliness of the plot doesn't get in the way of entertainment:
Audiences willing to just go with the movie's outlandish lead character will find laughs and thrills along the way, as well as that rarest of studio properties: a tentpole that actually leaves you enthusiastic about the prospect of a sequel.
"The Accountant" shouldn't add up, but somehow it does. Whether or not audiences warm to a hero who's equally skilled at tax codes and tae kwon do, the filmmakers certainly can't be accused of going for the tried and true.
Peter Debruge at Variety compared the film to an exploitation film and even said it has Batman-like qualities:
Based on a deliciously pulpy Black List screenplay by Bill Dubuque, "The Accountant" was one of those projects that admirers imagined would never get made — and maybe they had a point, seeing as how the script casually assumes that someone with Asperger's Syndrome is potentially wired to become a ruthless killing machine. In the wrong hands, the screenplay could have been as controversial as Brian De Palma's "Dressed to Kill" was with the trans community. But here, director Gavin O'Connor ("Warrior") demonstrates the right way to handle such material, elevating what is essentially an exploitation movie into a zen character study, one that takes its pound-of-flesh antihero seriously.
None of it seems all that far removed from world of Batman, at least not the one envisioned by Christopher Nolan, and we can hope that, when Affleck gets around to directing his own chapter of the Dark Knight saga, it will be as well-constructed and focused as this film. In the meantime, there should be enough common DNA here to appease fans: [J.K.] Simmons may as well be this movie's Commissioner Gordon, while Wolff's backstory reveals a tortured vigilante who may as well be wearing a cape and costume, but instead feels most comfortable in his wireframe glasses and pocket protector.
Todd McCarthy at The Hollywood Reporter wasn't as kind, saying the movie turns into a by-the-numbers action thriller, though he notes general audiences may not mind that:
The Accountant is both an intriguingly and maddeningly schizophrenic action drama; it's intriguing due to its audacious attempt to make an anti-social, on-the-spectrum math genius into an action hero, maddening because, having gone half-way toward genuine eccentricity, it conforms by relying on fatigued genre tropes when it finally gets down to business. All the more frustrating because of its conceptual freshness and Ben Affleck's sly turn in the title role, this sleek action thriller ends up delivering standard shoot-'em-up goods after initially suggesting it might provide something rather different. The sizable target audience probably won't mind.
Brian Truitt at USA Today likes how the autistic lead character shakes up the genre a bit:
O'Connor creates some intriguing action scenes and captures nice chemistry between his two math-loving main characters and the couple of feds especially. But where The Accountant really succeeds is exploring the emotions and coping mechanisms of a protagonist on the autism spectrum, plot points not often seen in the macho action genre.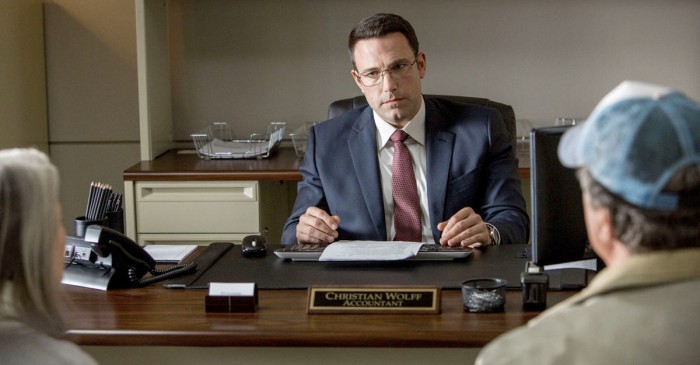 However, David Ehrlich at IndieWire found that certain quality of the lead character to be a problem:
And though — or perhaps because — director Gavin O'Connor shoots this strange October surprise full of the same scrappy, ball-swinging gravitas that he brought to the more grounded likes of "Miracle" and "Warrior," it is still some very, very silly business. Not silly because it treats a developmental disorder like a superpower or dares to suggest that someone on the spectrum can be as violently hyper-capable as the next guy, but silly because "The Accountant" attempts to prove that point by balancing all of the books at once.
You see, this isn't just a movie about a socially awkward CPA who performs his audits with an anti-aircraft rifle. No, that might be a bit too simple for screenwriter Bill Dubuque, the unapologetic maximalist whose screenplay for "The Judge" willed a dopey Robert Downey, Jr. vehicle into a biblical midwestern epic (complete with its own dubious depiction of autism).
Matt Singer at ScreenCrush thinks the casting of Ben Affleck undermines the character, but his skill in the action department is a plus:
Affleck isn't bad in the role — his emotionless delivery is funny at times, particularly playing off the bubbly Kendrick  — but his lengthy history as an action hero undermines the character. Everyone is so surprised that this bean counter is such an enormous badass. "He's just an accountant!" two different people exclaim at various points of the movie. The shock of this guy being as deadly with a calculator as a Glock would land with a lot more oomph if the Accountant was played by, say, Michael Cera instead of the 6'4" dude with pecs the size of honey-glazed hams who's anchoring the Justice League movie.
On the plus side, the movie's action and fight scenes are better than average, with fluid choreography and intense violence. The benefit of putting Affleck and his robust physicality in this part is that he can clearly do a lot of his own stunt work, and the lack of cuts lends a lot of credibility to the sequences where he tears through legions of goons with alarming efficiency and many, many headshots. It's sort of like John Wick meets a version of Good Will Hunting where Affleck and Matt Damon decided to switch roles.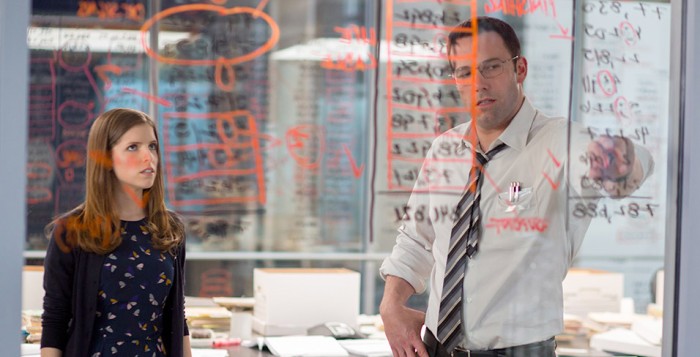 Keith Stuart at Empire notes Affleck also is decent in the role, as well as the supporting cast members, but finds a lot of flaws in the movie:
Affleck's performance isn't bad and we get excellent if familiar supporting turns from [Anna] Kendrick, John Lithgow and Simmons. But nothing makes an awful lot of sense. Character motivations are glossed over, explanatory scenes are jammed in haphazardly, and the finale relies on a tonally bizarre combination of schmaltz, coincidence and violence that seems to betray the arc of the whole movie.
Leah Greenblatt at Entertainment Weekly talks more about how silly the whole story is, but gives it credit for being better than a certain superhero movie from earlier this year:
Director Gavin O'Connor (Warrior) seems to know at some level that it's all camp, though it's unclear where he picked up certain elements of his medical definition of autism, or why Wolff's military-officer dad decides that the best response to his son's diagnosis is to train him to be a sharpshooting, Muay Thai-kicking assassin — aside from the fact that it works out super well for the plot. The whole thing's ludicrous, down to the last loony twist, but it's also a lot more fun than Batman v Superman.
Finally, Nick Schager at The Playlist has some harsh criticism for the movie that also sounds like indirect praise as well:
"I like incongruities," says Christian Wolff (Ben Affleck) to fellow number-cruncher Dana Cummings (Anna Kendrick) in "The Accountant," and so too does his film, whose abject cartoonishness is wholly out of whack with its air of self-seriousness. The story of an autistic accountant who earns a living as a Robin Hood-ish financial advisor by day and a highly trained lethal assassin by night, Gavin O'Connor's action saga operates from an absurd premise and yet is so gravely earnest – and so oblivious to its own silliness – that it comes across as a big-budget work of unintentional comedy. Think of it as "Rain Man"/"A Beautiful Mind" by way of "John Wick," except far dourer, and less delirious, than that description implies.
***
The comparisons to Batman appear to come not only from the fact that Ben Affleck is in the lead role, but also because of how the lead character comes to be in the dangerous line of work we find him. At the very least, despite how ludicrous this story sounds, audiences will likely find some great action and an entertaining movie in theaters this weekend with some praiseworthy performances from the entire cast.
The Accountant is in theaters everywhere on October 14.