'Valerian And The City Of A Thousand Planets' Video Game Coming From Spil Games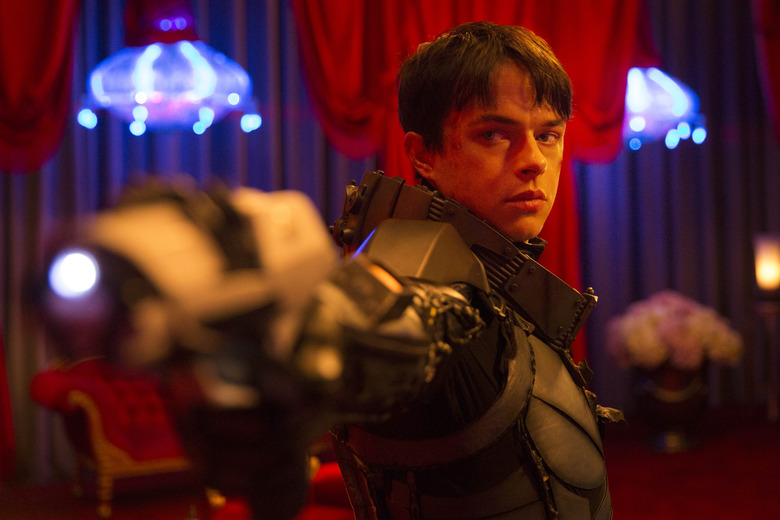 A trailer has yet to drop for Luc Besson's Valerian and the City of a Thousand Planets. But the sci-fi adventure, based on the French comic book series from writer Pierre Christin and illustrator Jean-Claude Mézières, debuted footage a few months ago at San Diego Comic-Con. The various environments, the alien designs, and the costumes had Besson's fingerprints all over them. Valerian and the City of a Thousand Planets looks like a wacky, lively, and colorful world not unlike The Fifth Element, and Spil Games will attempt to bring that world to your phone next summer.
Below, learn more about the Valerian and the City of a Thousand Planets video game.
Besson's upcoming space adventure is about time and space-travelling special operatives Valerian (Dane DeHaan) and Laureline (Cara Delevingne), partners tasked with keeping the peace in the universe. The film co-stars Clive Owen, John Goodman, Rihanna, and Rutger Hauer, plus Ethan Hawke in the role he was born to play: a hip, cowboy hat-wearing space pimp.
A large part of Valerian and the City of a Thousand Planets takes place in Alpha, a wild ever-expanding city with over seventeen million inhabitants and thousands of alien specifies. Besson's vision for the world is ambitious, and producer Virginie Besson-Silla is confident Spil Games understands that vision:
Spil Games impressed us with their vision and understanding of the world of Valerian. We are very excited and feel they are the perfect partner to help us share Valerian with the gaming universe.
Of course, as most movie fans know, video games based on movies are hardly ever satisfying. The list of these junky, rushed video games based on films goes on and on, but the CEO of Spil Games, Tung Nguyen-Khac, wants to aim a little higher than just mimicking a movie:
People are talking about this film as the spiritual successor to Fifth Element. It's going to be huge. We're excited and honored to be making the game for Luc and I believe we can really intensify the audience experience around the themes and ideas within the movie. It's no longer enough to make a game that just mimics the movie. Yes, players want to dig further into the story but the game also has to be cool and fun to play in its own right. The producers of the New Hollywood understand that a game which captivates its audience can massively amplify a movie brand.
The Valerian and the City of a Thousand Planets video game will launch a few short weeks before the film opens in theaters. While Spil Games works on the strategy game with EuropaCorp, Besson keeps working towards completing his long-time passion project, which he briefly talked to us about at Comic-Con.
Here's the official synopsis for Valerian and the City of the Thousand Planets:
Valerian (Dane DeHaan) and Laureline (Cara Delevingne) are special operatives for the government of the human territories charged with maintaining order throughout the universe. Valerian has more in mind than a professional relationship with his partner, blatantly chasing after her with propositions of romance. But his extensive history with women, and her traditional values, drive Laureline to continuously rebuff him.
Under directive from their Commander (Clive Owen), Valerian and Laureline embark on a mission to the breathtaking intergalactic city of Alpha, an ever-expanding metropolis comprised of thousands of different species from all four corners of the universe. Alpha's seventeen million inhabitants have converged over time- uniting their talents, technology and resources for the betterment of all. Unfortunately, not everyone on Alpha shares in these same objectives; in fact, unseen forces are at work, placing our race in great danger.
Valerian and the City of the Thousand Planets opens in theaters July 21st, 2017.