Don't Expect To See 'Blade' Anytime Soon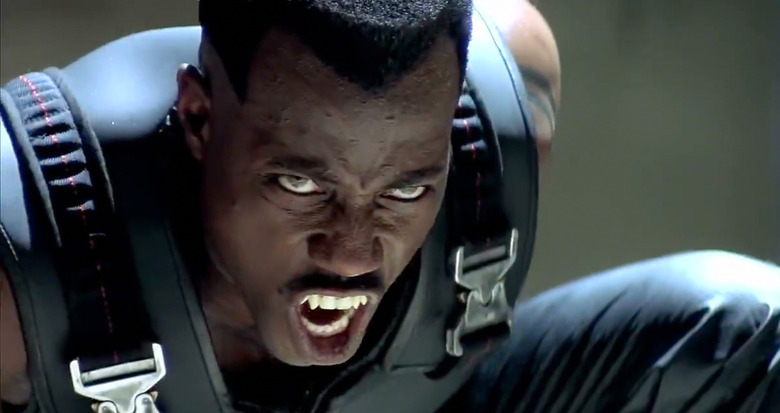 Over the years, there's been speculation, rumors, and stories about how or when we might see Blade return, but rarely is there any news confirming any movement on another Blade film. We heard about Wesley Snipes' desire to play the daywalker again, a possible Netflix series from Marvel Studios, a rumored film about Blade's daughter Fallon Grey, and, just the other day, Kate Beckinsale said they once discussed bringing Blade into the Underworld franchise. Beckinsale said Marvel had plans for the character, so that's one of the reasons why it didn't work out, but according to Marvel President Kevin Feige, there aren't any immediate plans for the vampire slayer.
Below, get the latest Blade update from Feige.
The other day at New York Comic-Con Kate Beckinsale said: "they're doing something with Blade." Her brief remark caused plenty of speculation regarding what Marvel has planned for the character, but since Beckinsale isn't involved with Blade, it's only right to ask the man in the know, Kevin Feige, about the current states on Blade.
Feige told The Playlist after the Doctor Strange preview event that Marvel will do something with Blade, but as for when exactly, "we'll see." Marvel's head honcho starts his answer by responding to the Underworld story, which he confirmed:
They did ask a long time ago and I think our answer was, 'No, we'll do something with 'Blade' at some point.' That's still the answer. We still think he's a great character. He's a really fun character. We think this movie going into a different side of the universe would have the potential to have him pop up, but between the movies, the Netflix shows, the ABC shows there are so many opportunities for the character to pop up as you're now seeing with Ghost Rider on 'AGENTS of S.H.I.E.L.D.' that rather than team up with another studio on that character let's do something on our own. What that is? Where that will be? We'll see. There is nothing imminent to my knowledge.
Tuning down the Underworld franchise when Marvel already has their world let Blade play in makes perfect sense. There's plenty of places for a new (or old) Blade to be established in the MCU, especially because, as Feige explained, it's possibly about to get a little bigger with Doctor Strange, which opens in theaters less than a month from now. The Marvel universe keeps expanding, but when it comes to Blade, all we can do is wait until Marvel makes America Blade Again. The last time we saw the character was in Spike's 2006 television series, which lasted one season.