'Jaws' Is Getting The Live Film Concert Treatment Around The World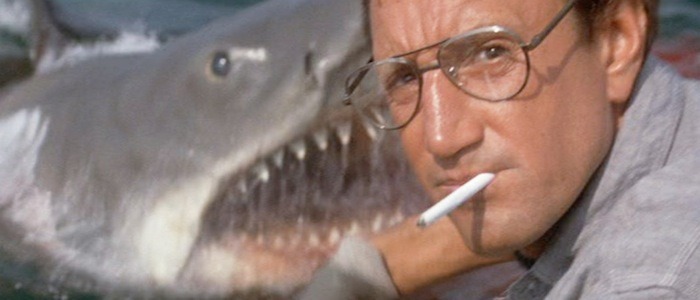 Just when you thought it was safe to go back into symphony halls, Jaws is getting the Film Concerts Live! treatment.
The iconic 1975 blockbuster from a young Steven Spielberg has become the latest film to get its own touring concert event where the music of composer John Williams will be played by a live orchestra along with a screening of the entire movie. Get details on the forthcoming event after the jump.
This isn't the first Steven Spielberg film to get the Film Concerts Live! treatment with E.T. The Extra Terrestrial, Raiders of the Lost Ark and Jurassic Park invading concert halls around the world. Back to the Future (which Spielberg produced) has also received live concert events over the past couple years as well. Now it will be the iconic Jaws theme pounding in your ear, as well as five minutes of additional music not heard in the film.
Here's what  FCL co-producer Jamie Richardson said in a statement to Billboard:
Since the advent of Film Concerts Live, Jaws has been one of the titles orchestras have expressed the most excitement about. It's not only a testament to the power and timelessness of Steven's masterful film, but also to the iconic nature of John's score, which certainly includes one of the most immediately recognizable themes in the history of the movies, perhaps even in the history of music. Perhaps more than with any other movie, the orchestra itself acts as a character in this film, not merely underscoring the action and emotion, but actually becoming 'the voice' of the shark itself.
John Williams himself also added:
It's thrilling for both Steven and me to realize that this unique film still captures the imagination of viewers after so many years, and that audiences now can enjoy the movie live in concert, accompanied by a great orchestra. This is the greatest possible reward for the joyous and fun-filled task of making it.
The first Jaws in Concert event will debut at the Boston Pops Orchestra (where John Williams conducted from 1980 to 1993) sometime next summer and more dates and locations will be announced sometime between now and then. Previous Film Concerts Live! events have stretched across the United States as well as locations in the United Kingdom, Australia and more, so just stay tuned to the official page for Jaws in Concert over here for updates.