Episode 8 Bits: A New Scene Described, Updates On Finn, And A Weird Day For Maz/Chewie Shippers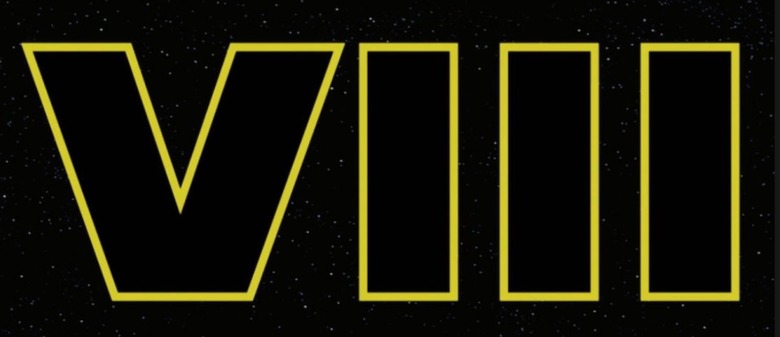 In this edition of Episode 8 Bits:
Details on an action scene in Star Wars: Episode 8.
Notes on how Finn recovers from his The Force Awakens injuries.
Lupita Nyong'o addresses the possibility of a Maz Kanta/Chewbacca relationship.
Adam Driver clarifies his statement about Episode 8 being like The Empire Strikes Back.
Star Wars actor Ian Liston has passed away.
Like Star Wars: The Force Awakens before it, Star Wars: Episode 8 has been a leaky ship, with all kinds of little details trickling out into the public eye. The chief difference this time around is that everything that leaks out feels murkier, more shrouded in mystery. We're still being handed puzzle pieces, but the art on each piece is far less clear. So that takes us to this Making Star Wars story, where they have the basic description of an action scene in Episode 8. Here's a sample:
The sequence takes place in space and it appears either the First Order is boarding a Resistance Ship or a small band of Resistance fighters is boarding a First Order ship. Overshoes were required that day and in the past it was a thing needed to keep the black floors smudge-free. Another sequence I saw some footage from featured an explosion on a Resistance ship but overshoes were not required for that (for what that's worth). Our best guess is the sequence involves Finn, Kelly Marie Tran's character wearing a "medal," and a resistance technician of some kind as they go up against a squad of First Order Stormtroopers on their ship.
Amusingly, the production codename for Stormtroopers appears to be "marshmallows" while the Rebel fighters are called "grizzlies" (which ties into the film's fake title, Space Bear). For more details on this scene, follow the link above.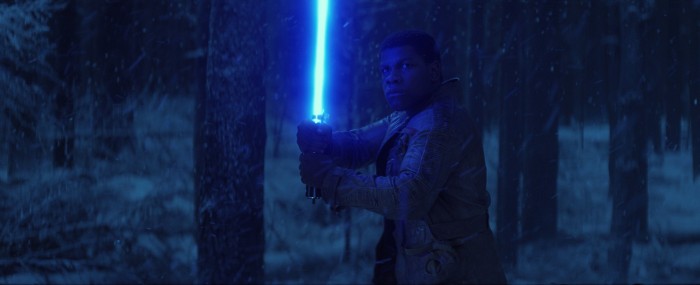 Another Making Star Wars tidbit concerns the immediate aftermath of what happened to Finn at the end of The Force Awakens. Specifically, it concerns the film concluding with him unconscious in a med bay after getting his ass kicked by Kylo Ren. It seems that medical technology has improved significantly in the decades since the original trilogy:
Medical staff have now placed Finn in a bubble suit (to elaborate, we have it on good authority it is called a bacta suit), to heal his injuries. There is apparently a sequence where Finn is cut or removed from the suit and is revealed to be in better condition than ever before.
If "bacta suit" rings a bell, that may be because you remember the bacta tank from The Empire Strikes Back, which was used to heal Luke Skywalker after he almost died in the icy wastes of Hoth: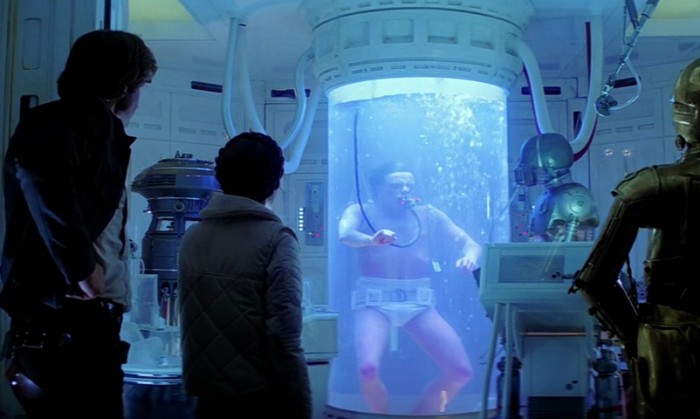 From the sound of things, what was once a bulky glass tube is now a suit that you can wear while you go about your business. It sounds like all of those Star Wars encyclopedias are going to need a refresher.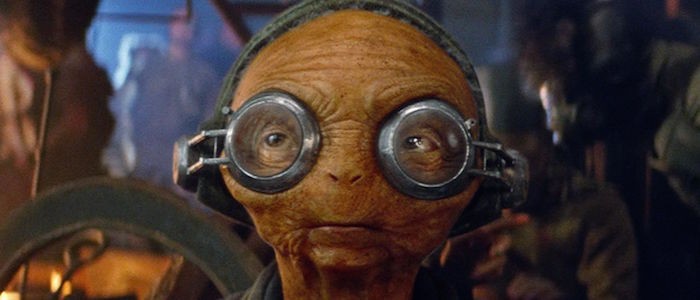 Star Wars: The Force Awakens features a throwaway line where Maz Kanata refers to Chewbacca as her boyfriend, a piece of dialogue that was almost certainly intended to be a quick joke and shorthand for the long friendship between the wizened bartender and Han's Wookiee buddy. But of course someone was eventually going to ask Lupita Nyong'o if Maz and Chewie were ever going to get together in future movies and that someone turned out to be Yahoo Movies. Here is her response:
That is a brilliant question. As the representation for Maz, I would say, I certainly hope so ... I think that is in Maz's hopes and dreams, yeah.
Although Nyong'o puts a positive spin on the whole thing, shippers prrrobably shouldn't get their hopes up.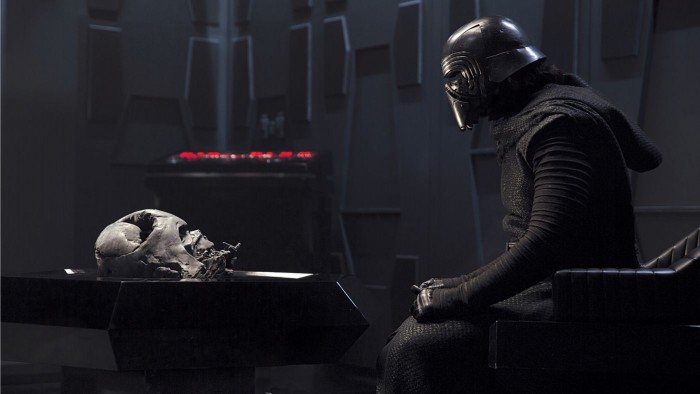 A little while back, Adam Driver compared Star Wars: Episode 8 to The Empire Strikes Back in an interview and the internet picked up that quote and ran with it. Because who doesn't love The Empire Strikes Back, right? Well, in a new interview with Vanity Fair, Driver said that what he was trying to say didn't come across properly:
No, no, and that's not even what I said. What I said was the tone of it was different, I didn't say that it was gonna be in the vein of [it]—I was using it as an example, so poor example. Next time I should say—I'm trying to think of another sequel to a movie that's good. When I read the script, it was not what I expected, in the best of ways.
So Driver was trying to say that Episode 8 is different from The Force Awakens in the same way that Empire was different from Star Wars. Gotcha. Okay. Moving on.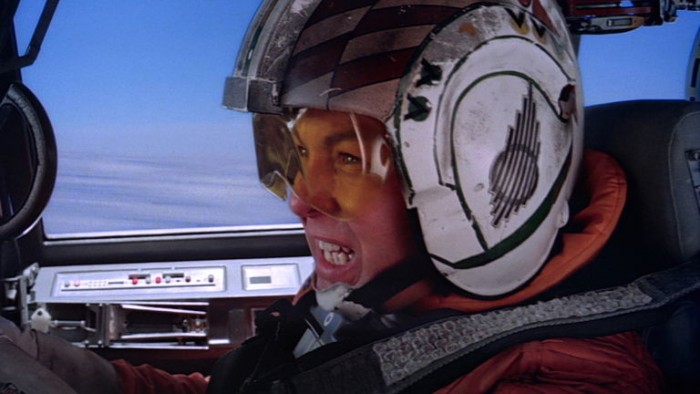 Actor Ian Liston, who played Wes Janson in The Empire Strikes Back, has passed away at the age of 68. Although he worked steadily from the '70s through the '80s (including a role in Doctor Who in 1979), he is best known as playing Wedge Antilles' gunner during the Battle of Hoth. Even if you don't know his name, you know the guy who shot the tow cable that took down at AT-AT Walker. Our thoughts are with his friends and family.