VOTD: Daniel Stern Returns As 'Rookie Of The Year' Chicago Cubs Pitching Coach Phil Brickma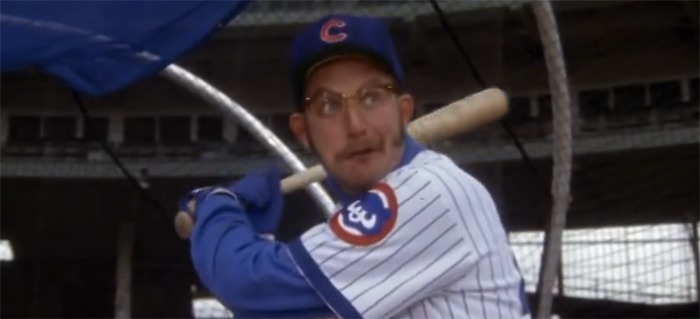 It doesn't feel like there are nearly as many sports comedies geared towards kids as there were in the 90s. The decade brought hits such as The Mighty Ducks, The Sandlot, Angels in the Outfield, The Big Green, Space Jam, Cool Runnings and more. But one of my favorites as a child of that time was Rookie of the Year. The movie follows a young Thomas Ian Nicholas (a future American Pie star) as
Henry Gardenhoser
Henry Rowengartner as an aspiring baseball player who really isn't all that good at the game. But when a broken arm heals in a way that causes him to pitch insanely fast, he's recruited by the Chicago Cubs as their new pitcher. Pretty believable, right?
The Chicago Cubs go on to win their division and eventually the World Series, though that last part happens off-camera. Well, it just so happens that the Chicago Cubs are making a run for the championship again in real life as they're in the Major League Baseball playoffs (they're even up 2-0 against the San Francisco Giants). They may not have a young kid as their pitcher, but they're doing pretty well, and Rookie of the Year co-star Daniel Stern (Home Alone) thought this was a good time to bring back his wacky pitching coach character Phil Brickma to maybe help guide the Cubbies to the championship.
Here's the Daniel Stern Rookie of the Year video from the actor's YouTube page:
There's also this one where he makes a pitch for "Frozen Fire," a riff on his "hot ice" bit from the movie:
Rookie of the Year is far from a classic, but it's certainly a nostalgic favorite of plenty of kids from the 90s. Honestly, it's nice to see Daniel Stern having a little fun as this goofy character from the movie. He's not the only one from the movie who has thrown support behind the Cubs. Thomas Ian Nicholas returned to Wrigley last year for the seventh inning stretch, and he's thrown the first pitch out at the ballpark before too.
For those who may not know this, Daniel Stern also directed Rookie of the Year, and he's a true die hard Chicago Cubs fan. Here's hoping he gets to see his team finally win another championship for the first time in over a century. It may not be as cool as it would have been if the Cubs won the World Series last year as Back to the Future Part II predicted, but it'll still be pretty damn great.