'Bad Moms' Spin-Off 'Bad Dads' Opens In Theaters Next Summer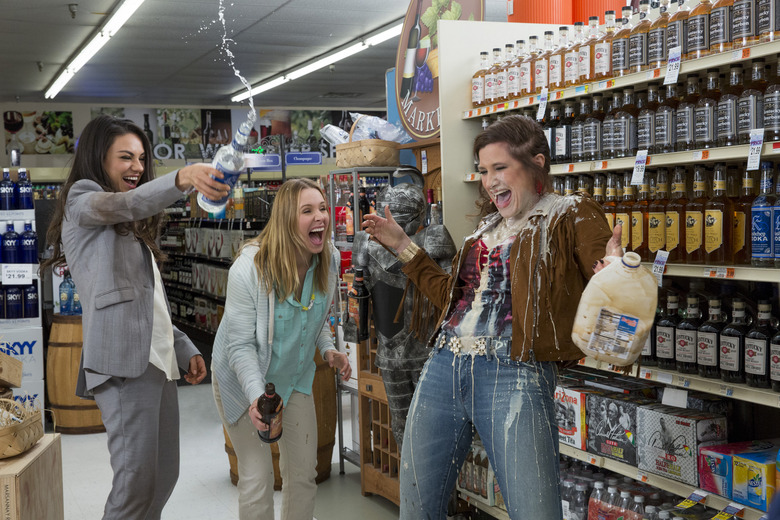 Bad Moms was a breath of fresh air this past summer. Co-directors Jon Lucas and Scott Moore made an original comedy which, instead of following around a bunch of normal man-children, starred women having fun and getting up to a little debauchery. But part of what was appealing about Bad Moms may not apply to the hit film's spin-off, Bad Dads, which STX Entertainment has scheduled to open in theaters next summer.
Below, learn more about the Bad Moms spinoff.
STX Entertainment isn't making a Bad Moms sequel, but they are looking to expand the brand, as they put it. The comedy made over $170 million worldwide at the box-office, so the studio figures maybe people would see a Bad Moms spinoff, maybe a reality show, some short form digital content, and a "robust consumer products program." In the press release sent out, that's how STX described their plans  for the Bad Mom "brand":
Where other studios have automatically green lit traditional and significantly more expensive sequels, STX has determined those sequels on average are grossing 68% less than the originals. Instead, STX has chosen to focus on extending consumer passion for the Bad Moms brand with a series of film spinoffs, a reality television show, short form digital content, and a robust consumer products program.
Some lackluster (and expensive) sequels — Independence Day: Resurgence, X-Men: Apocalypse, Jason Bourne, and Teenage Mutant Ninja Turtles: Out of the Shadows, to name a few – did come out this summer and fail to match their predecessors at the box-office. Bad Moms, however, only cost $20 million and grossed over $100 million in the States. The film had legs, too, so audiences genuinely enjoyed the likable comedy.
Will those same moviegoers go out and see Bad Dads? Impossible to say, even if a male-led spinoff sounds like an odd way to capitalize on the success of Bad Moms. There aren't any real details about the spinoff, except that it'll open in theaters on July 14th next year, which shows STX is wasting no time trying to strike while they believe the iron is hot. Whether Jon Lucas, Scott Moore, or any of the key talent involved in Bad Moms is involved is unconfirmed.
When Bad Moms came out, Kevin Grayson, STX's domestic distribution chief, partially credited the picture's success to the fact that there weren't really any other female-led comedies opening over the summer. With Bad Dads, though, that film will probably see some competition from other male-driven comedies. A part of what Bad Moms had going for it — a non-sequel with an immensely charming female cast — this spinoff is throwing out the window.
This all isn't to say Bad Dads is a bad idea. If STX gets the right team together, who's to say they couldn't make a funny, raunchy, and (like Bad Moms), sometimes sweet look at fatherhood? Assembling a cast as entertaining as the one we saw in Bad Moms won't be easy, but we'll know the stars of this spinoff soon. Casting announcements are expected to be made in the coming weeks.
Bad Dads opens in theaters July 14th.