'Salt And Fire' Trailer: Werner Herzog's New Movie Is Weirder Than It Looks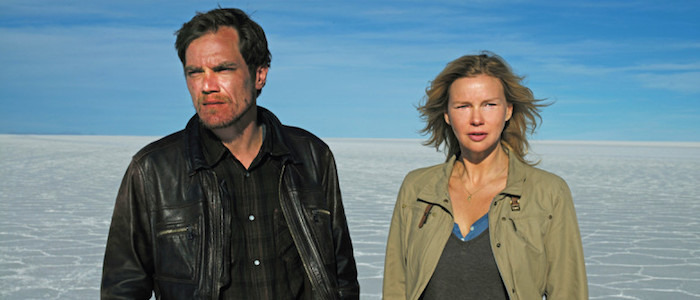 I didn't write a full review of Werner Herzog's Salt and Fire from Fantastic Fest 2016, but when I put together my silly end-of-festival awards, it walked away with two imaginary statuettes: "Most WTF Character" and "Most Quotable Movie." That first award was well-earned because this is one odd movie, fluctuating between bonkers and boring on a scene-by-scene basis. That second award came about because I spent the rest of the fest encountering people who had also endured the movie and sharing lines of dialogue like a baffling inside joke that only we were privy to. I will never recommend Salt and Fire, but damn it, I will never discourage you from watching it.
And it's only right that the trailer for the film is a total bait-and-switch that tries to sell the film as a traditional thriller when the last words you could ever use to describe this film are "traditional" and "thrilling."
Look, I don't even know how to begin to describe Salt and Fire. Mere words cannot convey the oddball tone and stream-of-consciousness storytelling and the fact that every single character speaks like they're narrating their own Werner Herzog documentary. And the movie itself is 100%, unadulterated Herzog. This is the kind of a fascinating, slow-motion train wreck that only one of the greatest filmmakers who has ever lived could pull off. It gets even better when you get to the end credits and realize that Herzog was surely in on the joke the entire time.
Here's the trailer. It's all a lie.
And here's the synopsis, which suggests that Gael García Bernal has more than 15 minutes of screen time before he gets diarrhea and vanishes from the movie (he doesn't):
The United Nations has sent a scientific delegation, led by researchers Laura (Veronica Ferres) and Fabio (Gael García Bernal), to investigate rare South American geological formations. But as soon as they land, the crew is kidnapped by minions of rogue businessman Matt Riley (Michael Shannon), who has his own agenda when it comes to environmental protection. Deep inside his compound, Laura becomes separated from her fellow explorers and drawn deeper into Riley's world, but try as she might, she can't predict his final plan.
The real lead of Salt and Fire is Veronica Ferres, but Michael Shannon steals the show, taking an impossible character powered by impossible monologues and generally being a trooper. He may be the finest actor working today and I'm glad that he's in this role rather than anyone else on the planet. It eventually becomes clear that Salt and Fire is really just an excuse for Werner Herzog to shoot salt flats, but Shannon is hilarious and weird and kind of brilliant, turning in a performance that deserves to be studied for its left-field choices. There's also noted theoretical physicist Lawrence Krauss as a wheelchair-bound, rifle-toting henchman. This freaking movie, man.
And to be fair, those salt flats really do look amazing.
Salt and Fire manages to be boring and compelling and hilarious and frustrating all at once. It's singular work of art from one of our great artists. You probably shouldn't see it when it opens sometime next year, but also...maybe you should?
While we're here, the poster is also a laugh-out-loud example of tonal misdirection. I love this so much.