The 'Westworld' Episode 3 Preview Promises More Cowboys And Robots And Sex And Death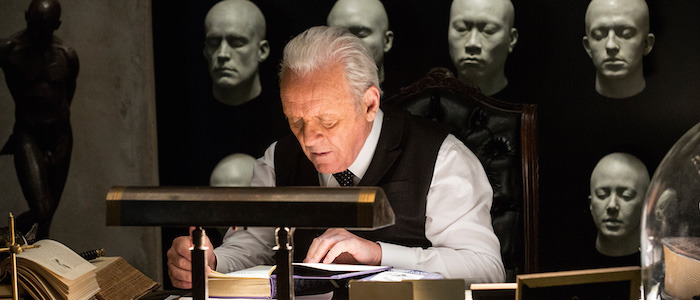 HBO's Westworld is quickly becoming my new obsession, a dense and complex science fiction tale that is full of wild ideas and chilling commentary that also manages to be...well, really, really fun to watch. It's one thing to make a smart and scary show about the base nature of mankind, but it's another thing altogether to also make it a surprisingly funny examination of interactive entertainment. And it's yet another thing to set the whole think in a futuristic theme park themed as the old west and populated withe lifelike robots who may be on the verge of gaining self-awareness.
If you're all caught up after last night's episode, the preview for the third episode, titled "The Stray," has arrived online.
Like previous teases, the Westworld episode 3 preview doesn't seem to explicitly focus on next week, instead promising a glimpse at what's to come in "the weeks ahead." It's actually a nice touch – not knowing which moments in the footage below are just around the corner and which are hours away is a good way to keep us on our toes.
There's a lot to parse there. Gatling guns! The Man in Black and Teddy Flood wearing cavalry uniforms! Robots running amuck behind the scenes! Here's the actual synopsis for "The Stray," which is full of intriguing morsels:
Elsie (Shannon Woodward) and Stubbs (Luke Hemsworth) head into the hills in pursuit of a missing host. Teddy (James Marsden) gets a new backstory, which sets him off in pursuit of a new villain, leaving Dolores (Evan Rachel Wood) alone in Sweetwater. Bernard (Jeffrey Wright) investigates the origins of madness and hallucinations within the hosts. William (Jimmi Simpson) finds an attraction he'd like to pursue and drags Logan (Ben Barnes) along for the ride.
I'm most interested in getting to know Elsie and Stubbs, two characters who have been mostly underserved. Plus, the thought of two human characters venturing into the park on official company business sounds like yet another fresh angle to explore this material.
If you want to kill some time before next Sunday, we've got you covered. I've been writing in-depth spoiler reviews of each episode and you can find my post about "The Original" right here and "Chestnut" over here. Meanwhile, we've also covered some of the craziest theories people have come up with regarding the show's world, taken a deep dive into how the park operates, and taken a look at whether or not the show will include the other robot theme parks seen in the original 1973 movie.