Watch The Animated 'Jurassic World' Prequel Short Film 'LEGO Jurassic World: The Indominus Escape'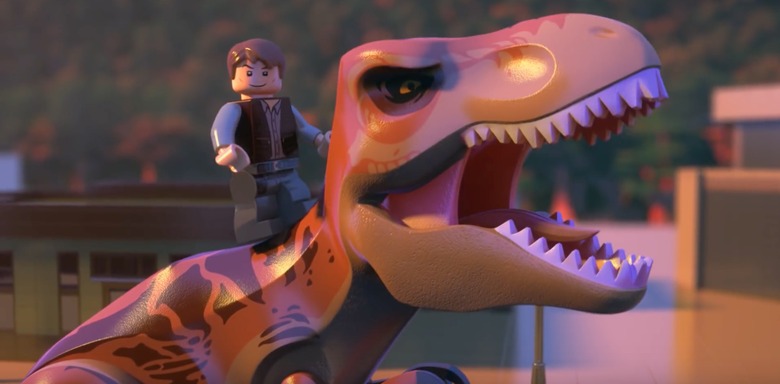 Universal Pictures has teamed up with LEGO to produce a 24-minute animated short film which acts as a prequel to Jurassic World. Titled LEGO Jurassic World: The Indominus Escape, the short film shows how the Indominus Rex came to be and what happened when it escaped.
That's right, according to this new piece of Jurassic World canon, the movie wasn't even the first time this genetically engineered dino escaped and apparently Chris Pratt's character rides the T-Rex. And of course, this being a LEGO production means we get all the fun, ridiculous and playful humor we've come to expect from the building block brand. Hit the jump to watch the Jurassic World short in its entirety.
LEGO Jurassic World: The Indominus Escape
Here is the trailer for LEGO Jurassic World: The Indominus Escape in case you want to get a sneak preview before deciding to invest 24 minutes:
And here is the five-part short film itself:
The animated Jurassic World short film as part of a new Jurassic World DVD bundle hitting stores on October 18t, 2016. The bundle will also include an exclusive 8-minute short. LEGO has provided the following official synopsis for the Jurassic World short film:
When Simon Masrani accidentally destroys one of the park's main attractions (he really should learn how to fly that helicopter!), he calls upon his trusted employee, Claire, to save the park! After some quick dino-DNA building in Dr. Wu's lab, Claire comes up with the perfect solution that is sure to please Masrani and kids everywhere – The Indominus Rex – the smartest, biggest, scariest and hot dog-loving hybrid dinosaur ever created! But when the Indominus eats all the hot dogs, it escapes from its pen in a hungry rage, and it's up to the skilled and rugged dinosaur trainer, Owen Grady, to save the day. After a daring motorcycle chase that ends in a pile of bricks, Owen and Claire think they have the Indominus beat, but the hybrid is smarter than they thought. After Claire creates a trap using some tasty treats, Owen quickly puts his training skills to the test and leads a pack of newly trained hybrid dinosaurs to battle the Indominus Rex in an epic, action-packed finale! Will Owen and Claire stop the Indominus Rex and save the park before it is too late? Find out in LEGO Jurassic World: The Indominus Escape.