LOL: 'Saturday Night Live' Gives A Sneak Peek At 'Stranger Things' Season 2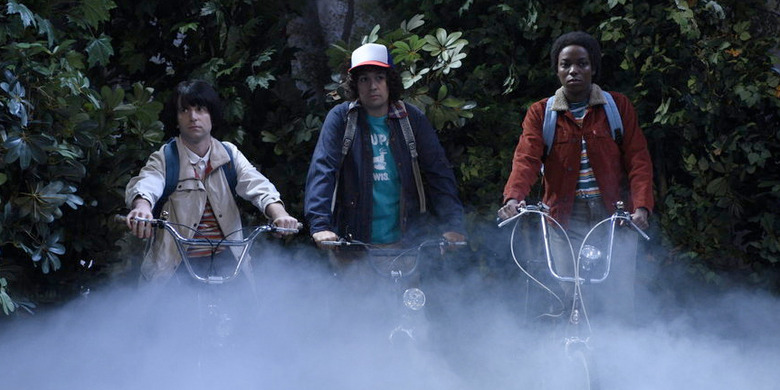 Last night, Lin-Manuel Miranda hosted Saturday Night Live for the first time (our recap is coming later today). It's not everyday that a Broadway star is brought in to host the late night sketch comedy series, but that's just how big Hamilton has become. In addition to all the musical jokes that were made, including plenty of rapping from Miranda, one of the standout sketches featured an outstanding parody of Stranger Things.
New cast members Mikey Day and Alex Moffat open the sketch as The Duffer Brothers, and they explain that they wanted to get a head start on answering some of the questions fans had after watching the first season of Stranger Things. One of the biggest questions revolves around one of the kid's parents, who were noticeably absent while the kids were out during all hours of the night. Thankfully, Saturday Night Live brings those parents to life for us, and the result is thoroughly entertaining.
Watch the Stranger Things Saturday Night Live sketch below
Finally Lucas' parents (played perfectly by Kenan Thompson and Leslie Jones) show up to find out what the hell their son has been doing this whole time. I could listen to Thompson and Jones lecture this kid forever since each of them sounds absolutely hilarious when they're yelling at people.
Beyond the hilarious premise, there are some solid impressions here as well. Lin-Manuel Miranda has the lisp of Gaten Matarazzo locked down and Kate McKinnon does a fantastic job looking intensely creepy as Eleven. But the scene stealer is freshman cast member Melissa Villaseñor as Winona Ryder's crazed mother.
The real payoff in this sketch though is the reaction that Lucas' parents have when Beck Bennett shows up as the chief played by David Harbour. That's just great writing right there.
At the very least, this is something that will hold us over until the real second season of Stranger Things comes along. So far we know the episode titles for the whole season and we know some of the new characters as well. We're bound to find out more as time goes on, but the second season won't arrive until sometime next year, presumably during the summer again.