Disney's 'Tangled: The Series' Trailer: Mandy Moore And Zachary Levi Return In Stylized 2D Animated Series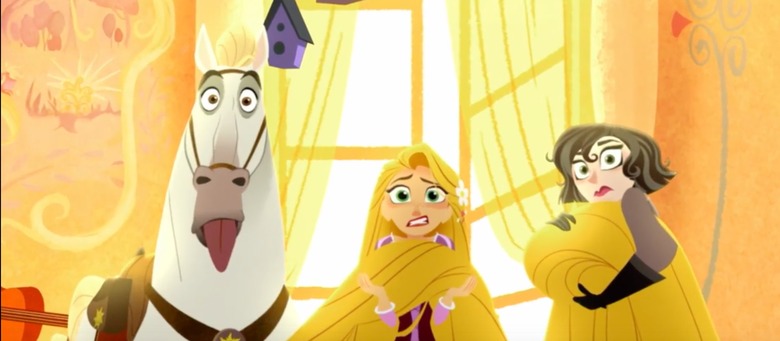 Disney Channel has premiered the first trailer for Tangled: The Series, an animated television series based on the 2010 feature film from Walt Disney Animation Studios. And no, this doesn't look like one of those cheap television spin-offs from the 1990's, the animation looks stylized and beautiful. And Mandy Moore and Zachary Levi reprise their roles, voicing Rapunzel and Eugene (aka Flynn Rider), respectively. The show also reunites the movie's composer Alan Menken and lyricist Glenn Slater. Hit the jump to watch the Disney's Tangled: The Series trailer.
Disney's Tangled: The Series Trailer
AS I said in the opening, I really dig the stylized 2D animation, I wish Disney would use the same style for a Star Wars animated series. I much prefer the show's working title Tangled: Before Ever After to Tangled: The Series, one is clever, the other sounds cheap and disposable. The series came about because Disney Channel's 2012 "Tangled Ever After" short was so successful, drawing five million total viewers. Interestingly, Rapunzel is seen in the series with her long hair intact, despite it being cut at the end of Tangled. The aforementioned short also showed the Princess with short hair. It seems like the trailer suggests a surprise in this respect.
Tangled: The Series is set between the events of the original film and the start of Tangled Ever After, following Rapunzel as she "acquaints herself with her parents, her kingdom and the people of Corona, and realizes there is much more she needs to learn before she can truly accept her royal destiny, causing her to put her crown and put her marriage on hold to seek out epic adventures, much to the dismay of her father, the King." Eugene, Pascal, Maximus, the Snuggly Duckling Pub Thugs are also back, alongside newcomer Cassandra, a tough-as-nails handmaiden who becomes Rapunzel's confidant.
Tangled: The Series is the thirteenth television series to be based on a Disney animated feature, after Timon and Pumbaa, Jungle Cubs, 101 Dalmatians: The Series, Hercules, The Legend of Tarzan, Lilo & Stitch: The Series, The Emperor's New School, Jake and the Never Land Pirates, The 7D and The Lion Guard. And it's the third television series since 1995 to be based on a movie featuring a Disney Princess, following The Little Mermaid and Aladdin.
Tangled: The Series will premiere on the Disney Channel in February 2017.  You can watch a clip from the previous short film, Tangled Ever After, below: