Tom Hanks Hosting 'Saturday Night Live' Again For The First Time In 10 Years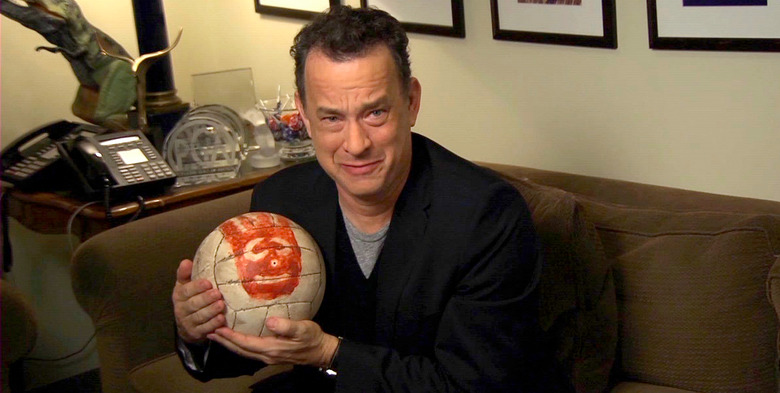 Following the 42nd season premiere of Saturday Night Live last weekend, the season continues this weekend with Hamilton creator and star Lin-Manuel Miranda taking the stage in Studio 8H for a show that will hopefully have plenty of musical influence.
Now NBC has confirmed that SNL will continue with two more episodes (making for a total of four in a row) this month, and one of them will bring back Tom Hanks as host. The last time the Oscar winner host was in May of 2006, over ten years ago. But before that, there will be another first-time host appearing on the show. Find out who it is after the jump.
On October 15th, Emily Blunt will host Saturday Night Live for the first time with musical guest Bruno Mars. Here's NBC's announcement on Twitter:
October just got even better. #SNL pic.twitter.com/T5fjYgz8ZV

— Saturday Night Live – SNL (@nbcsnl) October 7, 2016
Blunt can be seen in theaters right now in the thriller The Girl on the Train. Her performance is easily the best part of a movie that is utterly preposterous, like a Lifetime movie with a budget.
Meanwhile, Mars just announced that his next album "24K Magic" is coming on November 18th, so he'll have some new music to play on the show. Since he's also previously hosted SNL, I wouldn't be surprised if he appeared in some sketches too.
The week after that, on October 22nd, we'll see Tom Hanks hosting Saturday Night Live with Lady Gaga joining him as musical guest. Lady Gaga is another musical guest who went on to host the show herself before, so she'll probably appear in a few sketches as well.
As for Tom Hanks, he's a fan favorite host, having taken on the responsibility eight times before. Usually, some guest appearances come along with a Tom Hanks appearance on SNL, so it'll be interesting to see if anyone pops up this time. This is probably as good of a time as any to remember this outstanding sketch Tom Hanks did back in 1988 featuring some outtakes from Big:
Funnily enough, Emily Blunt and Tom Hanks previously appeared in a movie together, though you might not remember it. Blunt played a woman that Tom Hanks' character Charlie Wilson was sleeping with in the Mike Nichols film Charlie Wilson's War. She didn't have much to do, but this was just before her career really took off.
Stay tuned this weekend for our recap and review of the Saturday Night Live hosted by Lin-Manuel Miranda, and come back over the next couple weeks as we give Emily Blunt and Tom Hanks' episodes the same treatment.