The 2016 Summer Movie Wager: Results And Podcast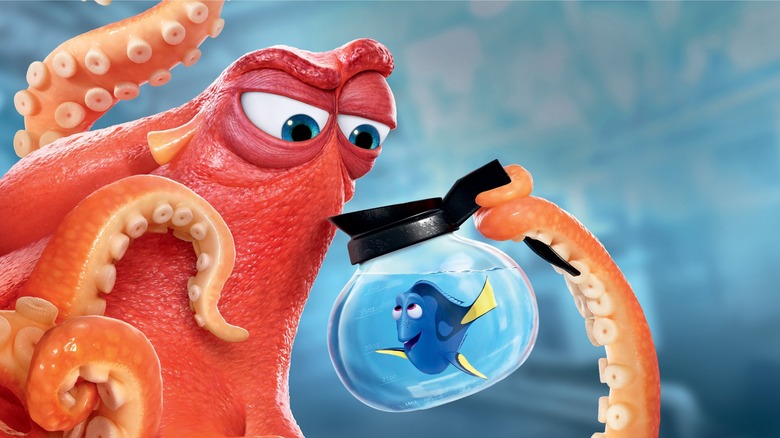 David Chen, Jeff Cannata, Peter Sciretta, and Germain Lussier reconvene to discuss the results of their 2016 box office summer movie wager results. Did Peter take it all by betting his money on Finding Dory over Captain America: Civil War? Below, you'll find the actual box office rankings for this summer, as well as Dave, Jeff, Peter, and Germain's original rankings. Hit the jump to download and listen to the podcast.
You can download the podcast or listen to it below:
Actual Top 10 list for summer 2015:
1. Finding Dory
2. Captain America: Civil War
3. The Secret Life of Pets
4. Suicide Squad
5. Jason Bourne
6. X-Men: Apocalypse
7. Star Trek Beyond
8. Central Intelligence
9. Ghostbusters
10. The Legend of Tarzan
2016 Summer Movie Wager Scoring:
Getting number 1 or number 10 dead-on gets you 13 points (each).
The rest of the scoring goes like this:
10 points for numbers 2-9 dead-on
7 points if your pick was only one spot away from where it ended up
5 points if it was two spots away
3 points if your pick is anywhere in the Top 10
1 point for each dark horse that makes it into the Top 10
The scoring is tabulated so that you get the SINGLE HIGHEST point value for each pick- that is, if you get number ten right, you don't get 13+3, you only get 13.
Peter Sciretta's List:
Finding Dory
Captain America: Civil War
Suicide Squad
Independence Day: Resurgence
X-Men: Apocalypse
Ghostbusters
The Secret Life of Pets
Star Trek Beyond
Alice Through the Looking Glass
Teenage Mutant Ninja Turtles: Out of the Shadows
Wildcards
Ice Age: Collision Course
Neighbors 2
Warcraft
David Chen's List
Captain America: Civil War
Finding Dory
Secret Life of Pets
Suicide Squad
X-Men Apocalypse
Star Trek Beyond
Jason Bourne
Ghostbusters
Independence Day: Resurgence
Ice Age: Collision Course
Wild Cards:
BFG
Warcraft
Tarzan
Germain Lussier's List:
Captain America Civil War
Finding Dory
Independence day
Secret Life Pets
X-men
Alice
Central Intelligence
Ghostbusters
Suicide Squad
Star Trek Beyond
Wildcards
Neighbors 2
Ninja Turtles 2
Conjuring 2
Jeff Cannata's List:
Civil War
Finding Dory
Ice Age
Xmen Apocalypse
Independence Day
TMNT
Jason Bourne
Star Trek
ghostbusters
Suicide Squad
Wildcards
Neighbors 2
Central Intelligence
Pete's Dragon
Devindra Hardawar's List:
Captain America Civil War
Suicide Squad
The Angry Birds Movie
X-Men Apocalypse
The Secret Life of Pets
Finding Dory
Jason Bourne
Star Trek Beyond
Independence Day Resurgence
Ghostbusters
Wildcards
Central Intelligence
The BFG
Free State of Jones