Ben Affleck Reminds Everyone 'The Batman' Doesn't Exist Until It Does, May Have A Different Title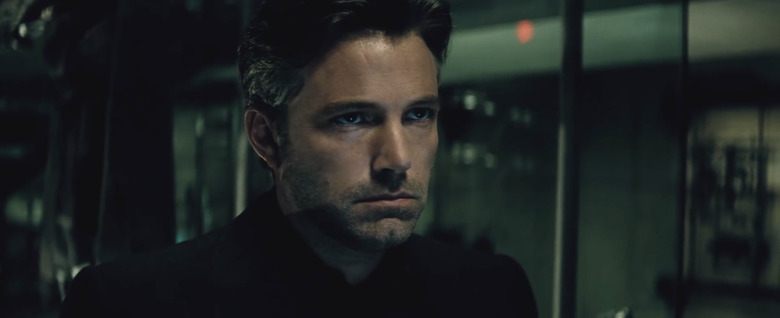 Just a few days ago, Ben Affleck apparently confirmed that the title of his forthcoming solo outing for The Dark Knight would be called The Batman, as was rumored for awhile. However, now the actor is walking back what he said a little bit, trying to remind everyone that the movie doesn't exist until it does.
Ben Affleck took part in a Facebook Live video on E! News to promote The Accountant with Anna Kendrick where he addressed the news earlier this week that The Batman was the title of the DC movie that he would be writing, directing and starring in. Here's what he had to say on the matter:
"I mentioned the other day... it's been around for a long time, but the movie... there is no Batman movie happening yet, we're still trying to figure it out, you know, get the script and budget and all that stuff. And someone said, 'what are you calling it?' and I had said, like, back when we were promoting another movie, I was like 'we don't have a name for it, we're just going with The Batman or Batman movie', and I said that, and everyone was like 'Affleck announces the name of his Batman movie.'"
It sounds like Ben Affleck is just playing it safe when it comes to the hype around the Batman movie. Even though Warner Bros. is fully expecting a Batman movie to happen in the future and Affleck has been linked to the project as writer, director, and star, he's just reiterating the fact that there is no movie until the script is locked down, or even until the cameras are rolling
As for the title, it sounds like Ben Affleck's Batman movie could easily end up having a different title. That's just how he and the crew at Warner Bros. are referring to the project for the time being. It does seem like an almost arrogant title, but the same could be said for Man of Steel as well, so it's probably not a big deal.
Fans shouldn't be worried that The Batman, or whatever it ends up being called, won't happen, especially with details like the involvement of Deathstroke as the villain being announced. It just sounds like Ben Affleck isn't rushing into anything and he wants to make sure that they have all the pieces in place before they get start talking about the film so definitively.