'Westworld' Episode 2 Arrives Early As HBO Launches New Online ARG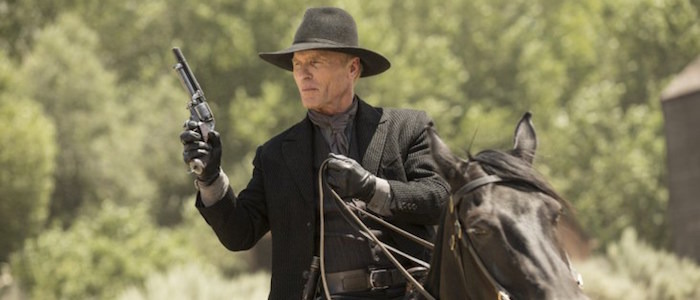 The first season of HBO's Westworld has barely even begun and we're already starting to pretty obsessed with it here at /Film. In addition to my weekly spoiler reviews, our own Peter Sciretta has already done a deep dive on how the show's futuristic theme park operates and has collected a batch of theories about what may be going on with this show's dense and complex world. And while the show does invite you to pick apart its mysteries, it does so while also providing rich, unsettling, and thoughtful science fiction storytelling that touches on everything from art to entertainment to religion to the inherent cruelty of mankind. It's good stuff.
And HBO has gone ahead and released the second episode a few days early.
If you're an HBO subscriber and have access to HBO Go, HBO Now, or HBO On Demand, the second episode of the season, titled "Chestnut," is available to watch right now. I haven't watched it yet (and I'm grinding my teeth until I get the chance), but the official synopsis seems to flip the perspective from the series premiere, focusing on a pair of guests coming to Westworld instead of the robot denizens:
A pair of guests, first-timer William and repeat visitor Logan, arrive at Westworld with different expectations and agendas. Bernard and Quality Assurance head Theresa Cullen debate whether a recent host anomaly is contagious. Meanwhile, the Man in Black conscripts a condemned man, Lawrence, to help him uncover Westworld's deepest secrets.
For those curious, it appears that HBO has released this episode early so it won't have to directly compete with the second U.S. presidential debate. This almost certainly won't be a regular thing. Despite the episode being released early, my spoiler review of "Chestnut" will still run on Monday morning.
Meanwhile, HBO has launched a fake website for Delos Incorporated, the fictional corporation that created Westworld. This looks like the start of some kind of alternate reality game (or ARG), allowing those who want to vanish down the rabbit hole a chance to do so. Right now, the site consists of a series of memos and messages between various writers, creators, and programmers working on the park and there is a lot to read through. Experiences like this don't usually improve the quality of the final product (10 Cloverfield Lane was a fantastic whether you participated in the online bonus stuff or not), but they can be tons of fun.
You can explore the site at the link above and start peeling back the layers on your own, but I do want to point out this amusing and totally self-aware message, which is responding to a new TV trailer for Westworld the park...which is actually one of the trailers HBO cut for Westworld the show:
You've got to be fucking kidding me... This has his stink all over it.   We were clear with these guys.  Admissions are up, but families are down. Strategy wants a family based spot.  Not some arthouse approach.  Besides, Strategy is nervous that the perception of the park is just guns and sex.  Big turn-off for newer guests.  How about something for kids?   Horses and farmers and some wholesome shit.
We'll be back on Monday with more on Westworld episode two.