'Toni Erdmann' Trailer: Dads Are Weird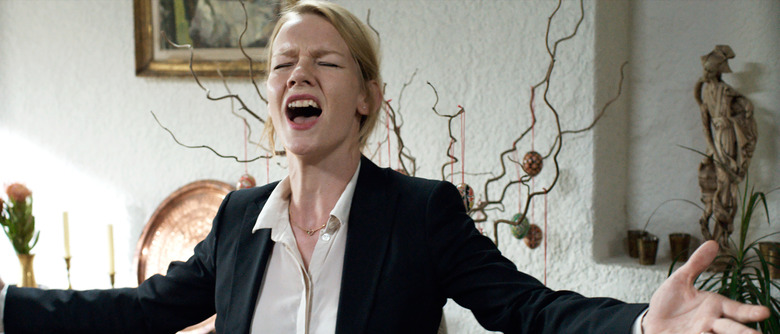 Maren Ade's Toni Erdmann may be Germany's selection in the Best Foreign Language Oscar category this year, but the cringeworthy hilarity of a really bad dad joke transcends language barriers. The story follows a father and daughter who aren't on great terms. She (Sandar Hüller) is busy with a high-powered job in Bucharest, and he (Peter Simonischek) is even lonelier than ever after his dog dies. In an attempt to reconnect, he shows up at her doorstep for an unannounced — and unwelcome — weekend visit.
Things only get stranger and funnier and more uncomfortable from there. Put it this way: if you thought your parents were weird, they probably still have nothing on Winfried here. Toni Erdmann earned raves following its Cannes debut this summer, and is now on its way to U.S. theaters at the end of the year. Check out the first Toni Erdmann trailer below.
Toni Erdmann is an unusual beast — a 162-minute German comedy that's played the festival circuit to glowing reviews. THR compares Ade's work to "an unfeasible cross between the comic sensibilities of novelist Jennifer Egan, Austrian filmmaker Ulrich Seidl and actor-showrunner Lena Dunham," while Collider calls it "full of surprises and immense depth." Variety reports that in addition to the father-daughter relationship, Toni Erdmann also works as "tacitly blistering feminist evocation of the everyday setbacks faced by women in the workplace." Given the fawning responses to this film, you're likely to keep hearing through top-10 season and then awards season. If you'd like to check it out, Toni Erdmann opens December 25.
Winfried doesn't see much of his working daughter Ines. The suddenly student-less music teacher decides to surprise her with a visit after the death of his old dog. It's an awkward move because serious career woman Ines is working on an important project as a corporate strategist in Bucharest. The geographical change doesn't help the two to see more eye to eye. Practical joker Winfried loves to annoy his daughter with corny pranks. What's worse are his little jabs at her routine lifestyle of long meetings, hotel bars and performance reports. Father and daughter reach an impasse, and Winfried agrees to return home to Germany.
Enter flashy Toni Erdmann: Winfried's smooth-talking alter ego. Disguised in a tacky suit, weird wig and even weirder fake teeth, Toni barges into Ines' professional life, claiming to be her CEO's life coach. As Toni, Winfried is bolder and doesn't hold back, but Ines meets the challenge. The harder they push, the closer they become. In all the madness, Ines begins to understand that her eccentric father might deserve some place in her life after all..