The First 'War For The Planet Of The Apes' Trailer Is Here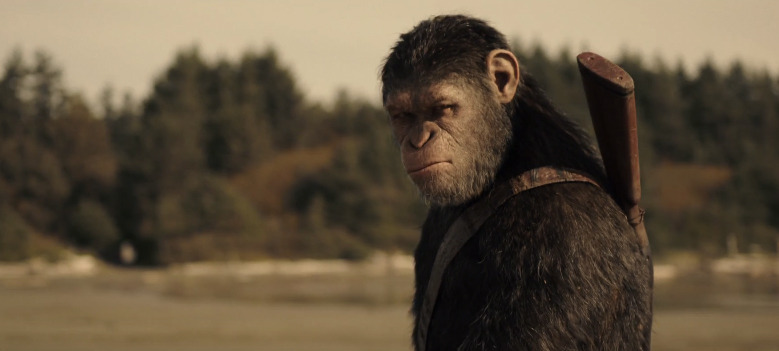 It's all been leading up to this. Rise of the Planet of the Apes showed us the unusual origins of Caesar (Andy Serkis), while Dawn of the Planet of the Apes chronicled his rise as a leader — and his struggle to keep the peace. Now the conflict between man and ape comes to a head in War for the Planet of the Apes, as Caesar faces off against an army of humans led by the Colonel (Woody Harrelson).
Meanwhile, Caesar is fighting another, more internal battle against his own darker instincts. And, well, it's no spoiler to say this is probably going to turn out very, very badly for us humans. Watch the first War for the Planet of the Apes trailer below. 
War for the Planet of the Apes Trailer
War for the Planet of the Apes is directed by Matt Reeves, who also helmed Dawn of the Planet of the Apes.
Reeves has previously outlined
how exactly War fits into Caesar's ongoing journey:
So first one, [Rise of the Planet of the Apes] is this sort of how [Caesar] goes from humble beginnings to becoming a revolutionary. In Dawn, he rose to the occasion of becoming a leader, a great leader in really challenging difficult times. The notion of what we're after in the third is continue that trajectory to how he becomes the seminal figure in ape history and almost becomes sort of like an ape Moses of sorts, a kind of mythic ascension. We're trying to play out those themes and try to explore it in this universe of exploring human nature under the guise of apes.
With War, we're inching ever closer to the story of Planet of the Apes. However,
, that doesn't necessarily mean we're headed into remake territory:
The idea would never be to remake the '68 film. There might be some of those events from another perspective, and obviously to also see them as events that grew out of everything that we've been watching from this new iteration. They wouldn't be exactly the same either. So if, and when, we ever get there, which I think is an exciting notion, it would definitely not be a remake but it would be sort of a re-telling of those events from a new perspective. And the events themselves would probably be a bit different since they will have grown out of these films.
War for the Planet of the Apes arrives July 14, 2017. Matt Reeves is directing and Serkis stars with Woody Harrelson, Steve Zahn, Judy Greer, Karin Konoval, Amiah Miller, and Terry Notary.