'Legends Of The Hidden Temple' Trailer: Nickelodeon Goes For Nostalgic Adventure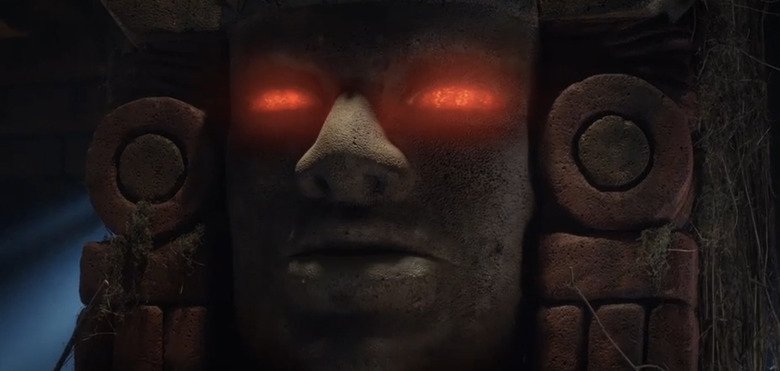 Next month brings another one of Nickelodeon's attempts to cash in on the nostalgia that children of the '90s have as they're now taking care of children of their own. The Legends of the Hidden Temple movie takes all the elements of the kids' game show and incorporates them into an adventure movie where three kids end up stuck in an ancient temple and must overcome various obstacles in order to escape alive.
A new Legends of the Hidden Temple trailer really pushes the adventure side of the movie, opting not to have any of the kids speak and letting the only dialogue come from the giant talking stone head known as Olmec (played by the original voice actor Dee Bradley Baker), delivering one of his signature lines from the show. You can watch it below if you wish. The choice is yours and yours alone.
Here's the trailer for the Nickelodeon movie from Entertainment Weekly:
If this was the only trailer we'd seen so far, I might be inclined to have a passing interest in watching this movie. But the trailer that debuted at San Diego Comic-Con showed that this is going to be a cheap made-for-TV movie that shoehorns in every possible reference to the game without much room for cleverness. Surely that's what most of us expected, but it's disappointing to see that those expectations weren't subverted in any way.
Perhaps some appeal might come from seeing what young actress Isabela Moner brings to the table as one of the leads. She's taking a key role in Transformers: The Last Knight, so this might give us a key into what we can expect from her. But at the same time, since this is a Nickelodeon TV movie, she'll probably be hamming it up much more than she would on a major studio movie.
If you nostalgic '90s kids out there still aren't turned off by what you've seen so far, here's the official synopsis:
The 

Legends

 of the 

Hidden

 

Temple

 TV movie follows three siblings who break away from a lackluster tour in a jungle, finding themselves immersed in a high-stakes adventure comprised of obstacles that they must complete in order to escape alive. The TV movie will feature many elements from the original game show including: Olmec, a talking head who greets cast members Noah, Sadie and Dudley, and launches them on the adventure of a lifetime; The Steps of Knowledge, the entrance to the 

temple

 and launching pad for the mission; and appearances from a green monkey, red jaguar, and silver snakes, among others.
Directed by Joe Menendez (From Dusk Til Dawn: The Series) and written by Jonny Umansky & Zach Hyatt, and Alex Reid, Legends of the Hidden Temple premieres on Nickelodeon this Thanksgiving weekend on November 26 at 8pm ET.