'Gold' Trailer: Matthew McConaughey Loses His Hair, Finds Riches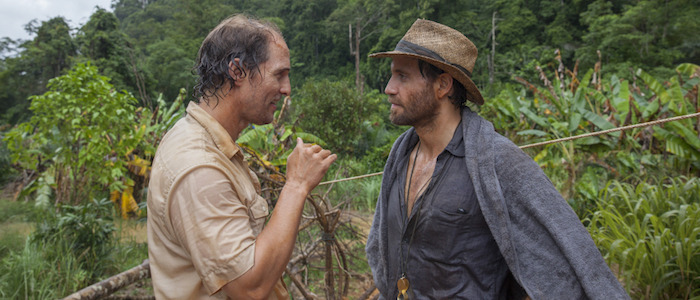 If the new trailer is an indication, Gold looks like the head-on collision between The Treasure of the Sierra Madre and The Wolf of Wall Street, somehow finding a way to combine men going mad in pursuit of riches in the wilderness and tales of corporate excess into one package. And of course it stars Matthew McConaughey as the eccentric, balding lead character, because he's reached the point in his career where he'll take on any job that allows him to run his good looks through a meat grinder. And you know what? All power to him.
The Gold trailer does a fine job of teasing out the basic shape of this story: a down-on-his-luck man ventures to Indonesia, gets himself a gold mine, gets rich, and then finds himself staring down a whole new series of problems. At the center of it all is McConaughey, whose ongoing quest to transform himself from heartthrob to oddball character actor seems to have reached its inevitable conclusion. This could be a case of McConaughey going full-IDGAF or it could be him reaching for another golden statuette, but, as always, I'll take this weirdo version of the man over the version that was starring in bad romcoms a decade go.
Even if you look past McConaughey chewing on the scenery, Gold does look like it has a lot to offer. After all, it's the next film from director Stephen Gaghan, who won an Oscar for penning Traffic and went on to direct the terrific (and seemingly overlooked) Syriana. Toss in a supporting cast that includes the likes of Édgar Ramírez, Bryce Dallas Howard, Timothy Simons, Toby Kebbell, Corey Stoll, Bruce Greenwood, Stacey Keach, and Macon Blair and you have a movie that more than earns its place as one of our most anticipated movies of the fall.
Gold is set to open on December 25, 2016, an Oscar-friendly release date that's also counting on you and your extended family taking a break from holiday festivities to enjoy bald McConaughey acting weird and getting rich in the jungle. Here's the official synopsis:
GOLD is the epic tale of one man's pursuit of the American dream, to discover gold. Starring Oscar winner Matthew McConaughey as Kenny Wells, a prospector desperate for a lucky break, he teams up with a similarly eager geologist and sets off on an amazing journey to find gold in the uncharted jungle of Indonesia. Getting the gold was hard, but keeping it would be even harder, sparking an adventure through the most powerful boardrooms of Wall Street. The film is inspired by a true story.