'Star Trek Beyond' Gag Reel Features Spock Laughing And Chris Pine Threatening To Go "Full Shat"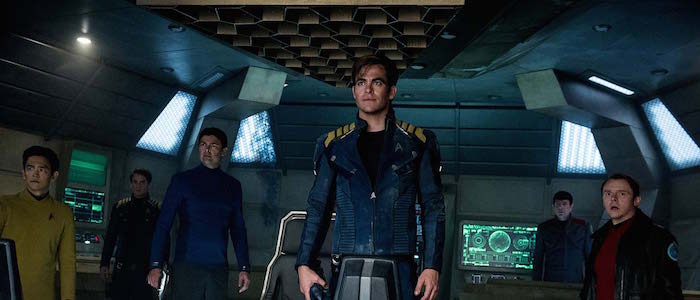 Star Trek Beyond was one of my favorite movies of the summer and a return to form after the disappointing Star Trek Into Darkness. The film didn't exactly light the box office on fire, but did manage to capture the essence of what makes Trek the finest science fiction series of all time while also delivering all of the expected action. I'm not sure if a fourth film with this cast will ever actually materialize, but if this is the end of the Kelvin timeline, it's a good way to go out.
Since the film is hitting Blu-ray and DVD early next month, consider the arrival of this Star Trek Beyond gag reel to be right on schedule.
You've seen a hundred of these before, so you know the drill. This is another 90-second assembly of actors breaking character, bursting into laughter, trying out improvisations both successful and unsuccessful, and generally finding all kinds of ways to botch their takes. Yes, it's still pretty funny. I would give this gag reel the edge over others because there's another history associated with Star Trek to lend every flub a little more weight. It's one thing for any other actor in the world to giggle through a take, but it's something special when that actor happens to be Zachary Quinto and he's playing Mr. Spock. And then there's Chris Pine threatening to go "full Shat" before a take.
On a related note, I've been making my way through both volumes of The Fifty-Year Journey, the two-volume oral history of the entire Star Trek franchise and it's been a treasure trove of trivia, crazy anecdotes, and hilarious gossip that will probably change the way you view many of the key players across the series' five decade history. I'm currently deep into the second tome and in the Deep Space Nine years, a series that was known for its very serious-minded set. That show stands in stark contrast to the set of Star Trek: The Next Generation, which was famously laid back and loose and driven by actors who were not above goofing off and having fun. Based on this gag reel, I imagine the Star Trek Beyond set was probably more like The Next Generation, especially since innately funny people like Simon Pegg were around the all the time.
Star Trek Beyond hits home video on November 1, 2016. The next television series in the franchise, Star Trek: Discovery, is set to arrive on CBS All Access in May 2017.